(CNN) -- Police in Toronto, Canada, asked thousands of people to evacuate their homes Sunday after early morning explosions at a propane company sent balls of flames into nearby neighborhoods.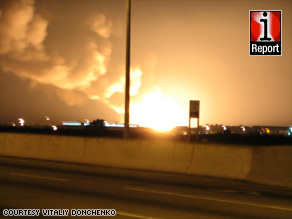 An i-Reporter captured an image of smoke rising from the propane company after the blast Sunday.
There were reports of minor injuries but no fatalities caused by the explosions at Sunshine Propane in north Toronto, authorities said.
The explosions erupted at 3:50 a.m. Sunday, said Bob O'Hallaran, of Toronto Fire Services.
The blasts sent balls of fire into nearby homes and torched two large railroad tankers that were loaded with propane.

Watch smoke plumes billow on the horizon »
Firefighters were "cooling down" the tankers to prevent further explosions, O'Hallaran said.
The cause of the blasts was not immediately known.
Police asked everybody who live within a mile (1.6 kilometers) to evacuate the area because of concerns the tankers might explode.
Television footage showed firefighters trying to battle huge flames from blazes that broke out. Black plumes of smoke billowed in the air for miles.
Wendy McCann of The Canadian Press told CNN that residents were awakened with what sounded like thunder and "huge, vivid, orange balls of fire lighting up the morning sky."
E-mail to a friend

CNN's Janet DiGiacomo contributed to this report.
All About Toronto