By Tom Watkins
CNN
ATLANTA, Georgia (CNN) -- In a nationwide measure, Argentina has granted gay couples the right to collect the pensions of their dead partners.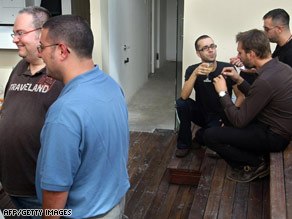 The Axel Hotels, aimed at the gay community, is shown in Buenos Aires, Argentina.
The National Social Security Administration's director is to sign the resolution on Tuesday, and it will become law upon publication the following Wednesday. It requires that same-sex couples show they have lived together for at least five years.
Maria Rachid, president of the Buenos Aires-based Argentine Federation of Lesbians, Gays, Bisexuals and Trans, said she has been fighting for this change for a decade. She credited the government of President Cristina Fernandez de Kirchner for creating the environment in which such a change could take place.
"Now we have a government that's more open, that's disposed to listening to our demands, and that's beginning to generate some changes," she said in a telephone interview from Buenos Aires.
But Hector Timerman, Argentina's ambassador to the United States, told CNN in Atlanta that it was not so much the influence of the current president as it is the changes that have occurred since Argentina emerged from the dictatorship years of 1976-1983.
"For a Latin American country, it's an amazing story," he said, noting that things have become much more open in the past quarter century.
Argentina has been reaping benefits from its stance, including serving as a popular destination for international gay and lesbian visitors, he said. "Nobody bothers them," he said. "Not even the church."
Still, the Catholic Church has long been the main opponent of granting partner rights to gays and lesbians.
But church officials had muted their opposition to divorce after the former president, Raul Alfonsin, suggested holding a plebiscite on the matter in the 1980s, and realized they had little chance of winning this battle either, Timerman said.
Rachid agreed. "We pay little attention to the Catholic Church," she said, citing a poll that found most residents of the capital city of Buenos Aires favored allowing gays and lesbians to marry, despite the church's opposition.
But plenty of work remains, Rachid said, citing her desire for gays and lesbians to be allowed to marry and the fact that civil unions for gays and lesbians are allowed in only a few cities in the country.
Andres Duque, director of New York-based Mano a Mano and a blogger on Latino gay issues, credited Argentina with being "the first one to jump to the gate in Latin America in terms of providing rights to same-sex couples." He cited the civil unions bill of 2002 in Buenos Aires -- the first Latin American city to pass one. But he criticized the effort as incomplete, citing the fact that the law does not allow for gays to adopt.
As a number of Latin American countries have elected socialist leaders, the political landscape has become more favorable on a continent often associated with machismo and Catholicism, Duque said.
For example, Ecuador is considering a change in its constitution that would grant rights to same-sex couples, including pension rights, health benefits and social security, he said. And leftist President Evo Morales is pushing for a prohibition against discrimination based on sexual orientation.
In some districts of Mexico, including the capital, civil unions are allowed.
"The nascent movement of LGBT rights in Latin America is just flowering right now," he said.
Even Colombia, still among the most conservative countries in Latin America, is considering a same-sex civil-unions bill, he said.
E-mail to a friend

All About Argentina • Culture and Lifestyle • Social Issues • Same-Sex Marriage