(CNN) -- Nine of the 12 men whose decapitated bodies were found Thursday in the state of Yucatan have criminal records, Jose Alonso Guzman, attorney for the state, said Friday.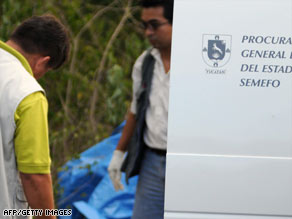 Forensic personnel analyze bodies found in a suburb of Merida, capital of Yucatan state.
Yucatan's governor, Ivonne Ortega Pacheco, said the killings appeared to be the result of disputes between drug cartels.
Police were alerted to the bodies -- 11 in Chichi Suarez and one in Buctzotz -- late Thursday afternoon by an anonymous caller, Guzman said.
The heads have not been found, said Yetel Castillo of the department of communication for Yucatan.
According to The Associated Press, photos of the crime scene showed headless corpses stacked on top of one another in a field outside the city of Merida. Some of the bodies had tattoos and were jumbled amid blankets and tarps.
It appeared to be the largest single group of beheadings in recent years in Mexico, AP said.
The tactic has become more frequent in gangland-style killings, and the largest previous instance of decapitations occurred in 2006, when gunmen tossed five human heads into a bar in central Mexico, the agency added.
E-mail to a friend

All About Mexico • Organized Crime