MEXICO CITY, Mexico (CNN) -- Eight people were killed and 101 were wounded in two explosions during a celebration of Mexico's independence day Monday night, a Mexican official said Tuesday.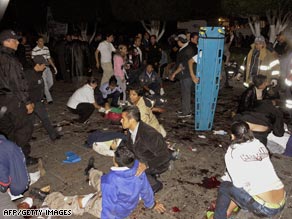 Wounded people get help after blasts Monday night during an independence day event in Morelia, Mexico.
Two people remained in grave condition, said Roman Armando Luna Escalante, secretary of health in Michoacan state. Eleven of the wounded were children, Luna Escalante said. None of them are gravely injured.
The explosions occurred around 11 p.m. near the governor's residence in Morelia, the capital of Michoacan. The second blast happened shortly afterward a few blocks away.
Officials would not say if they have any suspects or if any group has claimed responsibility.
Some experts pointed to drug cartels or insurgents.
"It could be a warning to the federal government, which has put a lot of money and manpower to deal with drugs, which are very powerful there," said Peter Hakim, president of the Inter-American Dialogue, a Washington-based think tank on Western Hemisphere affairs. "It could be leftist guerrilla groups that occasionally throw a bomb.
"The problem is that this is part of a real wave of violence that is consuming Mexico."
Last week the bodies of 24 people, bound and shot execution-style, were found in Atlapulco, a town just south of Mexico City.
Those killings Friday came roughly two weeks after tens of thousands of Mexicans marched on the nation's capital, calling for greater government action against the wave of violent crime.
Non-governmental groups estimate there have been more than 1,500 killings in Mexico this year linked to organized crime.
In late August, Mexican President Felipe Calderon met with the country's 32 governors to develop a plan to battle the rise in violent crime.
Calderon, who was born in Morelia, condemned the attacks and said federal officials will redouble efforts to help state authorities investigate.
More than 1,500 soldiers and federal police were maintaining order Tuesday, which marks the 198th anniversary of what Mexicans regard as their independence day.
Festivities typically start the night before because on September 16, 1810, shortly before dawn, a priest in a village in the state of Guanajuato rang a church bell and called on Mexicans to fight for independence from Spain.
The celebration in Morelia on Monday night was one of hundreds nationwide to celebrate that call for independence, which Mexico formally achieved in 1821.
E-mail to a friend

All About Mexico • Felipe Calderon