(CNN) -- The Venezuelan government has expelled two Human Rights Watch staffers and ordered them not to return, the group said Friday.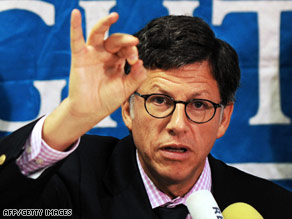 Jose Miguel Vivanco was kicked out of Venezuela after issuing a report critical of the country's president.
The men were kicked out of Venezuela on Thursday night, hours after issuing a report in the capital of Caracas that asserted that the 10-year rule of President Hugo Chavez has weakened democratic institutions in the country.
Jose Miguel Vivanco, Americas director at Human Rights Watch, and Americas deputy director Daniel Wilkinson were confronted at their hotel and given a letter accusing them of anti-state activities, the organization said Friday.
"Their cell phones were confiscated, and their requests to be allowed to contact their embassies were denied," the group said in a written statement. "They were put into cars, taken to the airport and put on a plane to São Paulo, Brazil, where they landed this morning."
"This is the first time this has happened in the Americas," said Conor Fortune, a press officer for the group. "The events basically prove many of the points made in the report: that Venezuela is still a very repressive country under Chavez."

Watch confrontation at the hotel »
The 267-page report linked Chavez's rule with an erosion of the country's democratic institutions.
"During this decade, democracy and its key institutions have become seriously weakened, judicial power has lost independence, civil society has less space, the news media, too, and the unions -- the big, strong ones -- cannot exercise their rights," Vivanco said Thursday.
Venezuela accused the men of entering the country using tourist visas, an assertion Vivanco denied Friday in São Paulo.
"It's totally false," he said. "We don't need visas to go to Venezuela."
Vivanco said he had checked a box on the entrance form to indicate that he was in the country to attend a conference and to work.
On their way to the Venezuelan airport, the rights workers were videotaped by Venezuelan state-run television. When the pair got to the airport, they asked where they were being flown.
The official answered, "São Paulo."
"São Paulo? That is where we are being deported to?" Vivanco responded.
"No," the official said. "Not deported. You are being expelled."
Critics said the report was an attempt to destabilize Venezuela orchestrated by the United States, which has had poor relations with Chavez.
"This action by Human Rights Watch we have no doubt is intimately linked to the efforts that have been revealed of late to generate destabilization in Venezuela, a coup d'etat, even assassination," Venezuelan lawmaker Rep. Saul Ortega said.
"Human Rights Watch is a front organization for the meddling of the United States in Venezuela," he said.
The New York-based human rights group describes itself as an independent, non-governmental organization that accepts no government funds, directly or indirectly.
E-mail to a friend

All About Venezuela • Hugo Chavez • Human Rights Watch