By Dean Irvine
CNN
CNN -- When it comes to successful electioneering, Bill Clinton's unofficial 1992 campaign mantra for the U.S. presidency, "It's the economy, stupid" often holds true, but what about the environment?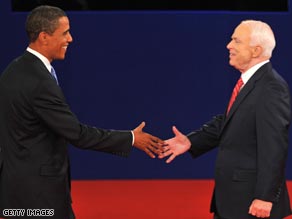 Same but different: The two presidential candidates share some common positions on dealing with climate change
U.S. Democrat Barack Obama called climate change "one of the biggest challenges of our time" but with just weeks to go until the election and the economy and current financial crisis dominating the debate, the environment and climate change has been relegated to a secondary issue.
"Unfortunately, this may be due more to the way campaigns are covered by much of the mainstream media, rather than to the candidates themselves," said Manik Roy, Director of Congressional Affairs for the Pew Center on Global Climate Change.
"Though the candidates have been consistent and, at times, vocal about their support for climate action, their positions have not been discussed in detail.
"The danger is that when the next president brings forward the climate policy he pledged during the campaign, most Americans may be surprised," Roy told CNN.
What is a welcome change from the current U.S. administration's is that both John McCain and Barack Obama take positive positions on the environment and climate change.
Both accept the widely held view that climate change is man-made. It's a position echoed by Obama's running-mate Joe Biden. McCain's vice-presidential candidate Sarah Palin has presented more mixed messages on this issue.
Asked by ABC News in September, 2008, whether she believes global warming is the result of a natural cycle or human activity, Palin said, "I'm attributing some of man's activities to potentially causing some of the changes in the climate right now."
However, around the same time, she was quoted by conservative Newsmax magazine, as saying, "A changing environment will affect Alaska more than any other state, because of our location. ... I'm not one though who would attribute it to being man-made."
Taking a similar stand
Palin's remarks attracted as much media attention as any positive statements by the presidential candidates on the environment.
Yet the lack of heated debate between the candidates on the issue of the environment may be because both take a similar position on climate change and international engagement.
On the international stage, while neither candidate has expressed a specific commitment to sign a new climate agreement under the UN Framework Convention on Climate Change, both have made positive signals that they will work constructively with the UN and international community.
For environmental groups like Greenpeace, this kind of international engagement is long overdue.
"It is time the US takes responsibility and takes the lead. The next administration must rejoin the international community by leading the development of a strong, binding and science-driven international climate agreement within the UN framework in 2009," Meg Boyle of Greenpeace USA told CNN.
"Given the mounting call for leadership from the American public, Congress, and American businesses, our next president will find inaction is not an option."
According to Roy: "There are very high global expectations for what the next president and his administration will do on the climate issue."
He also believes that reaching international agreement will be easier if U.S. domestic policy is in step with combating climate change.
"If the next president wants to get off on the right foot with the global community -- something that will serve us well on a variety of critically important foreign policy issues -- it is imperative that we craft and pass reasonable national climate policy," said Roy.
Engaging the public and trying to create a link between preserving the environment and personal well-being has been a tenant of both candidates's environment policy; making "green jobs" and the opportunities created by green technology and the renewable energy industry a possible vote winner.
"We can move forward, and clean up our climate, and develop green technologies, and alternate -- alternative energies for -- for hybrid, for hydrogen, for battery-powered cars, so that we can clean up our environment and at the same time get our economy going by creating millions of jobs," said McCain during the second presidential debate.

Watch McCain talk about the environment ».
Obama replied in kind, saying: "And it is absolutely critical that we understand this is not just a challenge, it's an opportunity, because if we create a new energy economy, we can create five million new jobs, easily, here in the United States."

Watch Obama talk about the environment ».
Differences in detail and deed?
The one question at the second presidential debate on the environment gave both candidates an opportunity to criticize each other's environmental voting record in the senate, but also provided a snap shot of their position on climate change and exposed one of the bigger differences between the two.
While Obama believes that nuclear is a key component in the energy mix (his state of Illinois has more nuclear power plants than any other state) he has not made the commitment to new nuclear power like McCain.
As part of McCain's "Lexington Project" to achieve energy security he calls for the construction of 45 new nuclear power stations.
"Nuclear power is safe, and it's clean, and it creates hundreds of thousands of jobs," he said during the second presidential debate.
While McCain also advocates the development of renewable energy, Obama has clear targets for 25 percent of energy consumed in the U.S. by 2025 to come from renewable sources.
In terms of emissions targets, Obama's campaign pledges to reduce greenhouse gas emissions by 80 percent by 2050, while McCain has pledged the target for 2050 to be 60 percent below 1990 levels.
Reaching those targets means employing a cap-and-trade system that would regulate and reduce emissions that is favored by both candidates.
Added to that a policy of promoting energy efficiency and methods like carbon capture and sequestration and both candidates appear to be making the right noises to combat climate change.
"The plans of either candidate may not yet include the full complement of solutions needed to deal with climate change, but both McCain and Obama's support for an economy-wide cap-and-trade program puts them well ahead of where the U.S. has been under the current administration," said Roy.
Cutting through the rhetoric
Obama may have echoed the thoughts of many keenly watching the presidential race when he said: "It's easy to talk about this stuff during a campaign, but it's important for us to understand that it requires a sustained effort from the next president."
So cutting through the campaign rhetoric what are the chances that either he or McCain would put that effort in and be able to enact their environmental policy ideas?
"I think this is certainly achievable, as long as the next president makes climate change a high priority and takes the time to explain to the American people how good climate policy is consistent with good energy policy, good economic policy and good national security policy," said Roy
Boyle believes that it's a questions of demonstrating strong leadership: "Greenpeace is a part of this mounting call for the president-elect to appear at the next round of [UN climate] negotiations in Poland and for the U.S. to commit to passing strong domestic climate legislation and to ratifying a strong global climate agreement.
"Taking this step will demand bravery and leadership. But isn't that what we expect of our next president?"
E-mail to a friend

All About Global Climate Change • U.S. Politics