From Mario Gonzalez and Rey Rodriguez
CNN
MEXICO CITY, Mexico (CNN) -- Mexico's Congress has passed a bill allowing private investment in the nation's state oil monopoly, Petroleos Mexicanos, or Pemex.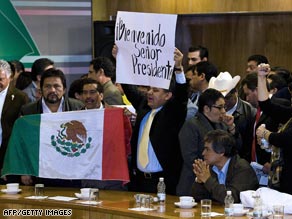 Party of the Democratic Revolution members in Mexico City protest privatization of Pemex on Tuesday.
The vote on Tuesday was preceded by some six hours of fierce debate. Opposition to the bill was led by the ex-presidential candidate Andres Manuel Lopez Obrador who last week equated "the defense of the popular economy" with "the defense of petroleum."
"You don't sell the fatherland," he said Tuesday.
His opposition was shared by Rep. Valentina Batres of the Party of the Democratic Revolution (PRD).
"We are rushing to approve something that more than 80 percent of you have not bothered to read," she told her colleagues.
The opposition Institutional Revolutionary Party (PRI) rejected those arguments. It predicted the initiative would make Pemex more efficient, cause more refineries to be built inside Mexico and, as a result, require less gasoline to be imported.
"Pemex needs to modernize itself, and that is what we're going to do," said Rep. Emilio Gamboa of the PRI.
Various factions had discussed the bill for months, achieving "a wide consensus of more than 90 percent," said Rep. Hector Larios, of the National Action Party.
The bill had already cleared the Senate by a wide margin, including votes from some members of the leftist party Progressive Broad Front, known by its Spanish acronym FAP.
But some FAP members said they opposed the bill because it opens the door to privatization of Pemex and, with it, exploitation of Mexico's natural resources by international companies.
Proponents of the bill predicted that international investment would result in the construction of much-needed new refineries in Mexico, meaning the oil-rich company would have to import less gasoline.
E-mail to a friend

All About Mexico