Editor's note: Fareed Zakaria is a foreign affairs analyst who hosts "Fareed Zakaria: GPS" on CNN at 1 p.m. ET Sundays.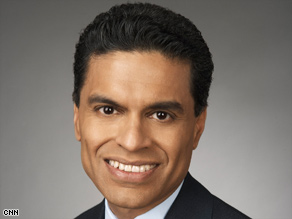 Fareed Zakaria says Barack Obama must tackle predatory policies and corruption on the left and the right.
NEW YORK (CNN) -- In his victory over John McCain in the U.S. presidential election Tuesday, Barack Obama snared about 65 million votes to McCain's 57 million.
According to exit polls, Obama crushed McCain among women voters (56 percent to 43 percent); voters under 30 (66 percent to 32 percent); African-American voters (95 percent to 4 percent); Latino voters (66 percent to 32 percent); first-time voters (68 percent to 31 percent); and voters making less than $100,000 a year (55 percent to 43 percent).
"I think this is the passing of an old order," CNN senior political analyst David Gergen said as the results rolled in Tuesday night and the outcome became increasingly evident.
"I think what we see ... is a new coalition, a new order emerging. It isn't quite there, but with Barack Obama, for the first time, it's won. It is the Latino vote, it is the bigger black vote that came out. Very importantly, it's the youth vote, the 18- to 29-year-old," said the Harvard University professor and former presidential adviser.
CNN spoke to world affairs expert and author Fareed Zakaria about the Obama victory.
CNN: Was this a transformative election?
Zakaria: Many people have been discussing it from a racial perspective and although that is true, I think it is larger than that.
I think President-elect Obama has the chance to realign the political landscape and to create a governing ideology for the West.
CNN: Doesn't that seem like a grand ambition?
Zakaria: It is not only ambition, but a result of the times. Conservatives have dominated Western politics for the last three decades because they proposed solutions to the problems of the 1970s -- slow growth, social unrest, and Soviet adventurism. But those solutions don't work anymore.
They don't address the problems of today -- an out-of-control financial system, rising inequality, unaffordable health care, poor infrastructure, a broken energy policy.

Watch Zakaria on Obama's win »
CNN: Isn't what you're describing then a return to the left?
Zakaria: Not really, the world has moved on from the 1960s. Few believe that the government should own the commanding heights of the economy, that central planners should allocate resources and that protectionism will save jobs in the long run. Look at the left in power, from Britain to Australia, and you see pro-market, pro-trade policies aimed at promoting growth.
The difference is that they also encourage government efforts in certain areas where the private sector isn't sufficient.
CNN: But there is still an American distrust of government -- which is why Americans have moved to the right. What are your thoughts on that?
Zakaria: I think the greatest problem most Americans have with Washington is they see their government as predatory and corrupt.
They look at the tax code and worry less that it "spreads the wealth" than that it institutionalizes corruption through loopholes and special deals.
True reform will mean attacking predatory policies and corruption, from the left and the right.
President-elect Obama must recast the traditional divide in American politics. Rather than the usual left-right split over the size and role of government, make it a bipartisan effort to combat corruption.
CNN: What president do you see President-elect Obama emulating?
Zakaria: In the early 1930s, economic and political realities also suggested that the United States was poised for a new era. But such an era happened and took the particular shape it did only because of the skill and ambition of Franklin Delano Roosevelt.
If he truly wants to mold the future, Obama will have to demonstrate similar leadership. However, I do believe he has the ability and the challenges to be another FDR.
E-mail to a friend

All About Barack Obama • Franklin D. Roosevelt