PORT-AU-PRINCE, Haiti (CNN) -- The death toll rose to 84 Saturday night in the collapse of a Haitian school as international aid crews continued sifting through the wreckage, a local journalist said Saturday night.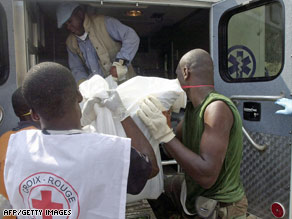 Volunteers in Petionville, Haiti, load a collapse victim into a Red Cross ambulance.
About 115 people were injured and another 200 were missing, said Clarens Renois of the Haiti Press Network.
As many as 700 children were inside when College La Promesse Evangelique in Petionville, near the Haitian capital of Port-au-Prince, collapsed about 10 a.m. ET Friday, officials said.
Some were in class, and others were on a playground, Haitian media reported.
Most of the students at the school ranged in age from 10 to 20, officials said, but some are younger. Haitian press reports said kindergarten, primary and secondary students attended the school.
Haitian rescue crews were being aided by American and French personnel. A Disaster Assistance Response Team from the U.S. Agency for International Development arrived Saturday afternoon.
"They are working through the night," Renois said. "There is very heavy stuff."
The disaster happened when the second floor crumbled onto the first, said Amelia Shaw, a journalist with United Nations TV who visited the scene.
Two uninjured children were pulled from the rubble Saturday and reunited with their families, said Rob Drouen, spokesman for the International Committee of the Red Cross.
Their rescue came hours after the death toll from the collapse climbed to 82 with the discovery of 21 bodies in a classroom, President Rene Preval said, according to Renois.

Watch rescuers pull students from the rubble »
The bodies included a teacher and 20 students, Preval said, according to Renois.
However, Drouen said it was difficult to say exactly how many people were inside the school.
"Yesterday, there was a special event at the school, so there were not only pupils but family members and friends who were invited," he said. "It's very difficult to say how many people were in the school."
A fire brigade team from Martinique with dogs discovered the two living children, Drouen said.
Don't Miss
At least one member of the Haitian Parliament has raised questions about whether the school was built for the number of students and teachers who were inside when it collapsed, Renois said. The official described the building as "not quite solid."
"This is a very weak construction," he said. "The structure is really weak."
Michaele Gedeon, president of Haiti's Red Cross, said that while she was on the phone with rescuers trying to coordinate their efforts, she could hear the voices of distraught children.
"On the phone you can hear so many children, you know, crying, crying, and saying, 'This one is dead; that one is dead,' " she said.

Watch Red Cross official describe scene »
About 50 to 60 people, 30 of them severely injured, were taken to Trinite Hospital in Port-au-Prince, said Isabelle Mouniaman Nara, the head of mission in the capital for Medecins sans Frontieres.
Another 150 patients were treated elsewhere, Nara said Friday night.
Trinite is the only hospital that is open in Port-au-Prince, Medecins sans Frontieres said. The other two, General Hospital and Hospital de la Paix, have been shut down by labor strikes.
The school is in an extremely poor part of town, and the roads are nearly impassable, Renois said. He also said an United Nations helicopter was unable to land.
Teams from the United Nations, Medecins sans Frontieres and Haiti were helping, Renois said.
U.S. Southern Command said Saturday that it will donate $10,000 in medical supplies to Haitian hospitals.
E-mail to a friend

All About Haiti