From David Mattingly
CNN

PETIONVILLE, Haiti (CNN) -- Haitian and international search-and-rescue officials told reporters Monday that they have done all they can to ensure no survivors remain under the rubble of a school that collapsed last week.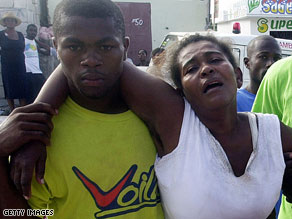 A woman anguishes over her missing child Monday near where a school collapsed in Haiti.
The implication was that the rescue work being carried out on a hilltop on the outskirts of the capital would shift to a recovery effort.
Teams have been searching the ruins since Friday, when the three-story concrete structure collapsed, killing more than 90 people and injuring 150.
No survivors have been found since early Saturday, when rescuers pulled several people from what had been College La Promesse Evangelique.
But hope had continued until Monday afternoon.
Earlier in the day, a group of about 20 Haitians ran up to the rubble and began digging with their hands, sparking a roar of approval from hundreds of people watching the scene from nearby rooftops and balconies. But their efforts, and those of rescue workers and a team of dogs, failed to find signs of life.
About 700 people were on school grounds at the time of the collapse, said Abel Nazaire, deputy coordinator of Risk and Disaster Management in Port-au-Prince.
Don't Miss
But Andre LeClerc, a U.N. spokesman at the scene, estimated that as few as 250 people were inside at 10 a.m. Friday, when the disaster struck -- meaning the number of people unaccounted for may be far fewer than the 100 to 200 people once feared trapped.
Officials said 150 others -- most of whom ranged in age from 10 to 20 -- were injured in the collapse. Many of them suffered deep cuts and broken bones.
The school's owner, Fortin Augustin, was being questioned by Haitian authorities, said Alta Jean-Baptiste, director of the Caribbean nation's Civil Protection Bureau. Augustin turned himself in but has not been charged, said Garry Desrosier, a police spokesman.
Many people were blaming poor construction for the disaster. Haitian President Rene Preval said the structure was "really weak" and called for a review of construction guidelines.
"When you build a building, an engineer should know how much material it takes to build and how many people the building can hold," said Tanis Emmanuel, father of one of the students.
E-mail to a friend

All About Haiti • Port-au-Prince