LIMA, Peru (CNN) -- Peruvian President Alan Garcia had to call his counterpart in Chile this week to explain comments by Peru's top army general that Chileans in Peru would be sent back in coffins or body bags.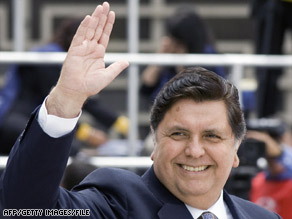 Peruvian leader Alan Garcia reportedly called his Chilean counterpart to explain a general's controversial remarks.
Garcia called Chilean President Michelle Bachelet on Tuesday to say that statements by Gen. Edwin Donayre are not the official policy of Peru, Bachelet said.
"We are satisfied by the explanations that the president of Peru has personally given by telephone to the president of Chile, and it is up to the government of Peru to take measures," Bachelet said in impromptu televised remarks as she left an official dinner.
Donayre made the remarks at a party at a friend's house in 2006 or 2007, said CNN affiliate station TVN in Santiago, Chile. The video was downloaded to YouTube in February and surfaced to wider attention Monday.
"We are not going to let Chileans pass by," Donayre says in the amateur-quality video as he offers a toast. "[A] Chilean who enters will not leave. Or will leave in a coffin. And if there aren't sufficient coffins, there will be plastic bags."
He is surrounded by other uniformed army officials as well people in civilian dress.
It is not clear from the video in what context the general was making his comments.
The remarks have caused an uproar in Chile, with the daily newspaper El Mercurio splashing the story across the top of the front page.
Peru has not taken any measures against the general, who is scheduled to retire December 5, as required by law at the end of his two-year appointment as the army's top chief.
Donayre has been the subject of an investigation in recent weeks concerning the use of 80,000 gallons of fuel under his control as commander of the southern military region in 2006.
The Web page for the president of Peru offered a statement Tuesday that said the country rejects Donayre's comments.
"The government unauthorizes such declarations that do not represent neither the sentiment of this government nor certainly the sentiment of the Peruvian people, and laments very much that in the heat of a celebration such verbal excesses could be produced," Peruvian Foreign Minister Jose Antonio García Belaunde is quoted as saying on the Web site. "We emphatically reject the contents of such declarations."
Belaunde made similar comments in televised news reports.
Asked if measures would be taken against Donayre, Belaunde said he was authorized to say only that the government condemned and rejected the general's statement.
"Any decision made about Gen. Donayre's future will be communicated by Defense Minster Antero Florez-Araoz," Belaunde said.
He also said that the Peruvian government has no intention of sending any written message to Chile, nor has there been such communication from the Chilean Embassy in Peru.
"I believe that this declaration that I make on behalf of the government is sufficient, emphatic and definitive," Belaunde said.
E-mail to a friend