CARACAS, Venezuela (CNN) -- Venezuelan President Hugo Chavez announced Sunday he will again seek to change his office's two-term limit so he can seek re-election.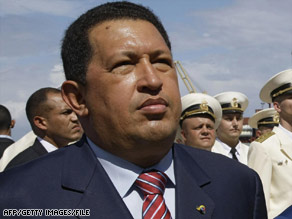 Voters last year rejected Venezuela's President Hugo Chavez attempt to extend presidential term limits.
Addressing a rally of his supporters, Chavez -- whose second six-year term expires in 2012 -- said he'd like to run again and perhaps even still be in power in 2021.
That year is significant because it will be 200 years after Venezuela's independence from Spain.
In his address, which was televised, Chavez called for a constitutional amendment that would allow him to run again. The constitution of Venezuela currently limits the president to two terms.
Chavez lost a similar bid last year, when Venezuelans shot down a referendum that would have allowed him to run for a third term in 2012.
That referendum proposed 69 amendments to the 1999 constitution, including one that would have abolished term limits.
E-mail to a friend

CNN's Ben Fernandez contributed to this report.
All About Venezuela • Hugo Chavez