From Mario Gonzalez
CNN
MEXICO CITY, Mexico (CNN) -- Mexicans welcomed Friday's report that U.S. automakers will get federal money to help them survive the economic crisis, but industry here is already talking about a possible bailout for the Mexican market as well.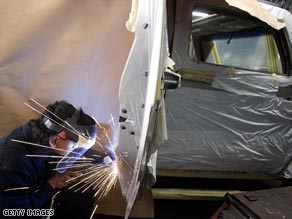 The Mexican auto industry welcomes reports of a bailout for U.S. automakers.
"Yes, there will be more trust here" because of the U.S. government aid to General Motors and Chrysler, said Jose Gomez Baez, president of the Association of Automobile Distributors.
But, according to Mexican car dealers, the rescue in the United States will not be enough to halt the crisis in Mexico.
In fact, they calculate that Mexico needs $3 billion to finance new car buyers. They have asked the federal government and private financial institutions for help, but have received no response.
"Not yet," Gomez said. "It is urgent to define that response. The problem of the financiers is a problem not of operation but of liquidity."
The money would be used to finance car dealers and buyers directly. The goal is to strengthen the internal market so that the sector is not seen as so affected by the fall in sales abroad.
"We are turning to the domestic market as a way of being able to sort through this crisis," said Eduardo Solis, president of the Mexican Automotive Industry Association. "The market has to strengthen."
Nevertheless, auto sales in Mexico have also fallen -- to levels not seen since 1995 -- and not easing credit to dealers and their clients could make next year worse.
"In the month of November, we have a drop of about 20 percent and, in the month of December, we will have a drop of about 22 percent," Gomez said. "That will give us a reduction of 1.03 million units," numbers not seen since 2002, he said.
Mexico's automotive sector leads the country's manufacturing sector, and is responsible for 1 million jobs directly and some 5 million indirectly.
Nevertheless, the seven assembly firms that operate in Mexico, including ones operated by GM, Chrysler and Ford from the United States, have announced layoffs of some 1,600 workers this year in addition to temporary work stoppages ordered to cut production totals.
E-mail to a friend

All About Mexico • Cars and Car Design