From Elise Labott
CNN State Department Producer
WASHINGTON (CNN) -- The United States and Mexico pledged Friday to redouble efforts in the war against drugs.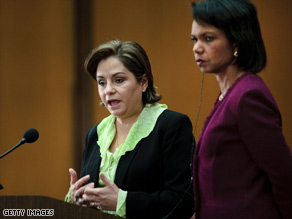 Mexican Foreign Relations Secretary Patricia Espinosa, left, and U.S. Secretary of State Condoleezza Rice.
Top officials from both countries met at the State Department to discuss the Merida initiative, a U.S. program to help Mexico fight drug trafficking and organized crime.
The $1.4 billion plan, proposed by President Bush in 2007, funds training, equipment and other assistance for Mexican law enforcement. Congress recently approved an initial $197 million, which the Bush administration made available to Mexico this month.
"The United States and Mexico have reaffirmed a commitment to enhanced partnership, cooperation, training, assistance [and] information-sharing, built on the premise that we have a shared responsibility to confront these criminals and protect our citizens, and that success requires increased cooperation," Secretary of State Condoleezza Rice said after the group's first high-level policy meeting.
The meeting was attended by Defense Secretary Robert Gates, Attorney General Michael Mukasey, Office of National Drug Control Policy chief John Walters, and senior officials from the Department of Homeland Security.
The Merida program begins after an increase in drug-related violence in Mexico over the past year, much of which is believed to be the result of turf battles between rival drug gangs.
Don't Miss
Mexican President Felipe Calderon has made fighting the drug cartels a priority for his administration. He has unleashed federal police and soldiers in several states across the country and tightened controls on money laundering and corruption among local and municipal police forces, which are said to have been infiltrated by drug traffickers.
The Mexican government's fight against drug cartels and organized crime has led to a string of killings of police and military personnel in Mexico.
The violence appears to be at its worst in the northern part of the country, which prompted the U.S. State Department to issue a travel warning this year for American citizens.
Rice said she is concerned about the recent drug violence on the Mexican border but praised Calderon's efforts to crack down on drug lords.
She said the United States, for its part, is working to attack the demand for drugs north of the border.
Mexican Foreign Secretary Patricia Espinosa said the Merida program presents the United States and Mexico with a chance for "unprecedented" cooperation in the war against drugs.
"The drug market leads to crimes in money laundering, in precursor chemicals, in weapons trafficking, in corruption and a growing level of violence that affects our societies on both sides of the border," she said. "And that is why we are committed to fully attacking this problem jointly, with great determination."
E-mail to a friend

All About Mexico • Drug Trafficking