(CNN) -- Canada will provide roughly $3.3 billion in aid to its automotive sector, officials announced Saturday, honoring a previous pledge to provide 20 percent of what the U.S. government offered automakers.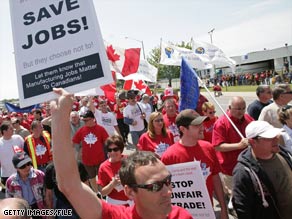 Canadian autoworkers rally last June outside a General Motors plant in Oshawa, Ontario.
The 3.3 billion U.S. dollars is equal to about 4 billion Canadian dollars.
Some 400,000 residents of Ontario, Canada, "rely on the auto industry so they can put food on the table and keep a roof over their heads," Ontario Premier Dalton McGuinty, who made the announcement along with Canadian Prime Minister Stephen Harper, told reporters.
"What the prime minister and I are saying today is that those people and their jobs are worth fighting for."
Ontario will provide about $1.3 billion of the total, McGuinty said.
The funds will be given to the Canadian subsidiaries of the U.S. automakers.

Watch how the U.S. auto bailout will be distributed »
Harper insisted the aid was "not a blank check," and conditions will be attached to the short-term loans.
"The bottom line is that all stakeholders will be expected to make adjustments to ensure that these auto manufacturers are financially competitive" -- including management, unions, bond holders and others, he said.
"This is a regrettable but necessary step to protect the Canadian economy," Harper said. The government will not allow the Canadian automotive sector -- which is inextricably linked with U.S. automakers -- to fail, he said.
On Friday, President Bush announced a rescue plan for General Motors and Chrysler LLC that will make $13.4 billion in federal loans available almost immediately. The money will come from the $700 billion fund created to bail out Wall Street firms and banks in October.
GM will get $9.4 billion from the first allocation of federal loan money, and Chrysler will receive the other $4 billion.
With these loans, the U.S. Treasury Department committed virtually all of the $350 billion of the total $700 billion it can hand out without additional congressional authorization. Once Congress releases the other $350 billion, the two automakers will be able to borrow an additional $4 billion.
Canada is taking a "holistic approach along the supply chain," Harper said, and will take two additional measures besides the short-term loans -- extending additional accounts-receivable insurance and creating a new facility to support access to consumer credit.
And strings are attached, as with the U.S. loans.
The Canadian loans will stay in place beyond March 31 only if the automakers can demonstrate they have solid restructuring plans in place, McGuinty said.
Canadian officials acknowledged there is risk involved. Come March 31, there is a "real possibility" the automakers will seek more funds, McGuinty said. Officials will deal with that if and when necessary, he said. "For the time being, we choose to act to keep these companies afloat."
"Our hope will be to recoup much, if not all, of this money," Harper said.
"We cannot afford, either in the United States or Canada, a catastrophic short-term collapse. The automakers must change the way they are doing business in a very serious way."
E-mail to a friend

All About Canada • General Motors Corporation • Chrysler Holding LLC • Economic Issues