From Mario Gonzalez
CNN
MEXICO CITY, Mexico (CNN) -- Mexican authorities said they have arrested the leader of a drug cartel that set off two grenades during a public celebration in September, killing eight people and wounding more than 100.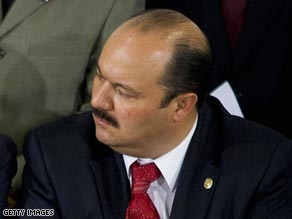 Cesar Duarte, president of the federal chamber of deputies, says he supports the government plan on narcotrafficking.
Alberto Espinoza Barron, known as "the Strawberry," heads the "Michoacan Family," which operates in the Mexican states of Michoacan and Mexico, authorities said. Officials say the cartel set off the two grenades September 15 in the public plaza in Morelia, the capital of Michoacan.
Espinoza Barron's arrest Monday, which officials did not confirm until Tuesday, came just days after Mexican officials arrested an army major assigned to a guard unit protecting Mexican President Felipe Calderon. The army major, Arturo Gonzalez Rodriguez, was paid as much as $100,000 a month for passing information to a drug cartel, officials said after the officer's arrest Friday.
Espinoza Barron's arrest by the military as part of its permanent presence in Michoacan came at a time when some are questioning the military's role in the war against narcotics traffickers.
"I believe that we need to totally change our strategies since the results have been awful," said Juan Francisco Rivera of the Mexican Commission on National Security. "It's not me who is saying that, because the president himself has recognized it. I don't believe the country is willing to keep committing errors."
Others believe that the military, known by the acronym SEDENA, is the only institution capable of confronting organized crime.
"The participation by SEDENA is necessary because there is a threat and harm to national security," said Guillermo Velasco, member of an organization called Better Society, Better Government. "It's known that many of the successes have come from the work done by military intelligence and investigation."
Don't Miss
Amid this debate, the secretary for national defense recently proposed a 60-year prison term for any military member linked to organized crime.
"We believe the national defense secretary's position is adequate," said Cesar Duarte, president of the federal chamber of deputies. "We support him with respect to implementing major punishment for elements that are infiltrated or compromised with narcotrafficking."
In many parts of the country, narcotraffickers constantly recruit low-level soldiers. The secretary of defense has said that in the past seven years about 100,000 soldiers have quit to join the drug cartels.
E-mail to a friend

All About Mexico • Drug Trafficking