By Steven Jiang
For CNN





Editor's note: "Beijing Journal" is an occasional series examining China's capital as it prepares for the 2008 Summer Games. This report looks at life outside the capital in Shanghai
SHANGHAI, China (CNN) -- Longtime sports writer Dan Washburn does not hide his disappointment that his favorite game has failed to make the cut for an appearance at the upcoming Beijing Olympics.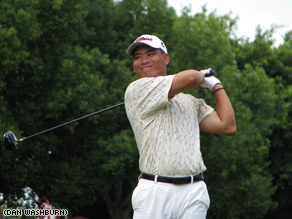 Chinese pro golfer Zhou Xunshu stumbled upon the sport when he was a security guard.
"If golf were part of the Summer Games, it would make a huge difference for its growth here," said the Shanghai-based American freelance journalist, who has been covering the sport's nascent China Tour for ESPN.
"It would give golf government blessing, which would translate into state funding and mandatory news coverage."
The presumptive limelight would bring a welcome change for Washburn, 34, who has often found himself part of a tiny media contingent on the green since he began reporting on the tournament in the summer of 2006.
In a country where playing a round of golf costs about $100 and the average income hovers just above $2,000 a year, Washburn is not surprised to see most Chinese media and people show little knowledge or interest in the "elite" sport.
But ample access to Chinese professional golfers -- many of whom appreciate the rare attention -- has drawn Washburn deeply into their fascinating world.
"They are poor men playing the rich man's game," Washburn observed. "If they were not playing golf, they would be working in the field farming."
This is the case of Zhou Xunshu, a 35-year-old pro golfer Washburn befriended during his first China Tour assignment, who grew up in a mountain village in the country's impoverished southwest.
Like many of his peers, Zhou stumbled upon golf when he left his hometown to pursue a better life in the big cities. He became a security guard on a golf course in the southern metropolis of Guangzhou before even realizing the sport's existence.
The mundane job sparked Zhou's interest in the strange game -- he started sneaking out at night, rolling balls on the green and working on his swings with a broken club.
It was not until six years later at the age of 29, however, that Zhou was able to practice semi-regularly when a sympathetic manager allowed him play on the course in early mornings.
By the time Washburn met him, it was already Zhou's second year on the tour.
This season, Zhou -- who makes less than $1,000 per month as a driving range instructor and has to cover his own tour expenses -- placed 9th among 91 players after three events, earning him some $5,600.
"What sets him apart is he is not just playing for the prize money -- he is driven and wants to be one of the best," Washburn said.
"His is the ultimate underdog story."
Washburn is turning the story to a book about golf in China, having followed Zhou from the courses to his wedding and even his remote home village.
Hoping to bring attention and help to players like Zhou, Washburn nevertheless insists his book -- titled "Par for China" -- is not just about golf but about the country seen through the sport.
"Golf is a barometer for China's political and economic rise," he said. "It's a symbol of so many issues affecting the country now -- the gap between the rich and the poor, environmental problems, land use, official corruption and historical prejudice."
Despite all the hurdles, Washburn feels optimistic about golf's future in China.
He would love to see the sport -- after three decades of absence in the early Communist era -- trickle down to the masses.
Currently most of the China's million-strong golfers hail from the nouveau riche class and enjoy their game in the country's 400 exclusive clubs.
For the Chinese Tiger Woods to emerge, Washburn believes the system has to change to attract more young talent, regardless of their backgrounds.
"They need public courses," he offered. "And they need a Chinese player in the world's top ten -- someone like the NBA's Yao Ming -- to raise public awareness and inspire a new generation of golfers."
E-mail to a friend

Steven Jiang is a Beijing-based freelance writer and former CNN producer.
All About Beijing • China • Olympic Games