(CNN) -- Myanmar's ruling junta agreed Friday to "allow all aid workers regardless of nationalities" into the country to help cyclone survivors, U.N. Secretary General Ban Ki-moon said.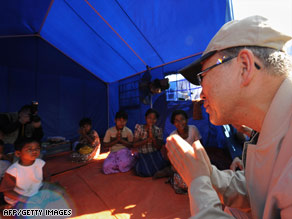 Ban Ki-moon makes a traditional gesture to a displaced family in the Kyondah village Thursday.
The decision came after the U.N. chief met for over two hours with the junta's leader, Senior Gen. Than Shwe -- and three weeks after Cyclone Nargis hit the country also known as Burma.
"He has taken quite a flexible position on this matter," Ban said.
International aid groups have criticized Myanmar for letting comparatively few relief workers into the country despite the severity of the storm, which the U.N. says killed more than 130,000 and left more than 2 million homeless.
Ban said the general made the statement "in front of many senior generals," convincing him that he would keep his word.
Details of the decision were not immediately clear, though a government official familiar with the decision said Myanmar will not allow foreign boats or helicopters into the country. iReport.com: Myanmar children beg for food
Ban said Myanmar officials agreed to allow the Yangon airport to be used as a logistical hub for aid distribution.
Word that relief workers may finally gain access to the storm-ravaged population swirled through Bangkok, Thailand, where a small army of aid workers is waiting for permission to enter Myanmar.
"It's extremely welcome news," said Melissa Winkler, spokeswoman for the International Rescue Committee.
As a result of Myanmar's delay in opening up to aid workers, however, many storm survivors have been drinking contaminated water, Winkler told CNN.
The IRC worries that too few health professionals are in Myanmar to handle a disaster of this magnitude, raising fears about the outbreak of disease, particularly as a result of the lack of access to clean drinking water.
When an IRC team visited two remote communities a few days ago and asked people what they needed most, they requested oral rehydration kits, a surprising response that provides evidence of disease, Winkler said. iReport.com: Send photos, videos of relief effort
The United Nations estimates that only one in four storm survivors has received assistance in the hardest-hit areas.
Steve Goudswaard, Cyclone Nargis response manager for the Christian charity World Vision, called the junta's decision to open the doors to more aid workers "excellent news" if true, but added it was also important that relief staff be given unhindered access to survivors.
"There is not a moment to lose in terms of needing to scale up our response," he said. "Large numbers of survivors have not so far received adequate assistance and many of them are in an extremely vulnerable situation. Allowing international staff into the country will also ensure our physically and emotionally exhausted national staff have additional support."
He said the priority was to get logistics staff into the main city Yangon "to help ensure the supply pipeline runs smoothly to meet demand."
Marcus Prior, a spokesman for the U.N.'s World Food Programme, also welcomed news of the junta's decision.
"This is a very positive sign that we may well be able to ramp up our operations," he said.
Despite restrictions imposed by the junta, the organization says it's been able to distribute food to half a million people. Still, more could have been done had the WFP been given greater access to those in need.
"It's virtually impossible to quantify," Prior said of damage done by the lost time. "We've done very significant work during that time."
E-mail to a friend

All About Myanmar • Natural Disasters • United Nations • Ban Ki-moon