BEIJING, China (CNN) -- Police in Tibet have arrested 16 Buddhist monks and are seeking three more for their alleged involvement in one bombing and two attempted bombings, authorities in Tibet told state-run media.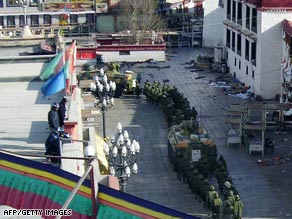 Chinese People's Liberation Army soldiers are shown in the streets of Lhasa, Tibet, on March 14.
All three cases occurred in Tibet's Mangkam county during the first half of April, according to the Tibet Autonomous Regional Department of Public Security.
The suspects confessed, police said, saying they had listened to foreign radio and were following separatist propaganda from the Dalai Lama, China's Xinhua news agency reported.
CNN could not confirm whether the suspects confessed.
The Dalai Lama has said he does not advocate violence or a separate and independent Tibet. He has said he wants a genuine autonomy that preserves the cultural heritage of Tibet.
Beijing blames the Dalai Lama and his followers for violence that erupted March 14 amid anti-Chinese demonstrations in Tibet. Some protesters advocated independence from China while others demonstrated against the growing influence of ethnic Han Chinese in Tibet and other regions of China with ethnic Tibetan populations.
The Chinese authorities cracked down on the protests, which began peacefully on the 49th anniversary of a failed Tibetan uprising.
Widespread violence broke out across China's Tibetan region, especially in the Tibetan capital of Lhasa, following a week of protests by hundreds of Buddhist monks.
"Real Buddhists should learn Buddhist scriptures by heart, love their country and their religion, abide by the law, and bring happiness to people," said Dainzin Chilai, vice-chairman of the China Buddhist Association and vice-chairman of the People's Political Consultative Conference of Tibet Autonomous Region. "They should not involve themselves in cruel killing and sabotage."
Both groups Chilai represents are affiliated with the Chinese government.
The unrest resulted in the deaths of at least 18 civilians and one police officer, according to government figures. It also injured 382 civilians and 241 police officers and led to the looting of businesses and home and the burning of shops and vehicles.
Tibet's self-proclaimed government-in-exile put the death toll from the protests at 140.
At the time of the unrest, roughly 1,000 people hurled rocks and concrete at security forces, demolishing military trucks and pushing back riot police, a witness told CNN, and Tibetans seemed to be targeting shops and vehicles owned by Han Chinese, the predominant ethnic group in China.
E-mail to a friend