By CNN's Reza Sayah
ISLAMABAD, Pakistan (CNN) -- Hundreds of Pakistani lawyers and flag-waving activists launched a cross-country march toward Islamabad on Monday to demand the restoration of judges sacked by President Pervez Musharraf.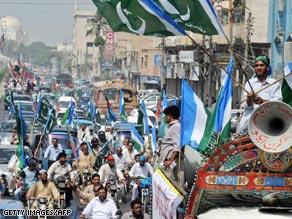 Lawyers and activists in Karachi join the Long March.
The Long March is the first organized protest against Pakistan's new government, which has yet to deliver its promise to reinstate Pakistani Chief Justice Iftikhar Chaudhry and about 60 other judges.
"It's one of its biggest failures," Athar Minullah, a spokesman for Pakistan's deposed chief justice, told CNN.
Pakistan's lawyers' movement has been demanding the restoration of the judiciary since Musharraf declared emergency rule and removed the judges in November. Some claimed he sacked the judges because they were set to rule against the legitimacy of his third term in office.
The movement had new hope after opposition parties won a majority of seats in parliament over Musharraf's ruling party.
The two main opposition parties formed a coalition and pledged to restore the judges within 30 days of parliament's first session.
More than five weeks after their self-imposed deadline, the sacked judges still do not have their jobs back and Pakistan's lawyers are growing impatient.
"They promised the nation that that is what they will do. They set a date for themselves, a 30-day period," Minullah said.
The issue of the sacked judges has created a rift within the coalition.
The party of former Prime Minister Nawaz Sharif wants the judges restored under an executive order. But the ruling party led by Benazir Bhutto's widower, Asif Zardari, has offered to restore the judges through a constitutional package that would also reduce the power of the president.
The rift was enough for members of Sharif's party to walk away from posts in the federal cabinet.
Political analyst Ahmed Bilal Mehboob told CNN the lawyers' protest adds more pressure to a young government that is already struggling with terrorism and rising food and fuel prices.
"Such a big onslaught of citizens marching on the national capital, I think it's a very bad omen for democracy, for the new government, for the country," Mehboob said.
But Interior Ministry adviser Rehman Malik said the Pakistani people have the right to march.
"As long as they are peaceful we are peaceful, and we have been assured by them that they will be peaceful," Malik said.
Organizers plan for marchers to convene in front of the parliament in Islamabad by week's end.
On Monday chants of "Go, Musharraf, Go" could be heard in the streets of Karachi, Quetta and Multan, where the march kicked off.
Minullah says Musharraf is to blame for Pakistan's constitutional crisis and should be charged with treason for sacking the country's judges. "He is the only criminal," Minullah said.
E-mail to a friend

All About Pakistan • Pervez Musharraf