ISLAMABAD, Pakistan (CNN) -- Afghan President Hamid Karzai warned Sunday his troops would take their battle against Taliban extremists across the border into Pakistan to prevent them launching attacks in his country.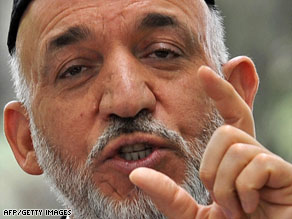 Hamid Karzai says his troops have the right to cross into Pakistan to pursue militants.
Karzai told reporters in Kabul on Sunday that Afghan soldiers had the right to enter Pakistan because insurgents crossing the border to attack Afghan targets "gives us the right to go back and do the same."
The Afghan president has previously urged Pakistan and its U.S.-led coalition allies to do more to tackle extremists holed up in Pakistan's remote border regions, but this is the first time he has indicated taking matters into his own hands.
Karzai said his administration's "patience was running thin." He said the cross-border attacks have destroyed homes and schools.
"This is a two-way road, and Afghans are good in two-way road journeys," he said. "We will complete the journey, we will get them and we will defeat them. And we will avenge all that they have done in Afghanistan for the past so many years."
Pakistan's prime minister responded that his country would not "allow" Afghan troops in.
"We will neither interfere in the internal affairs of any country, nor will we allow anyone to interfere in our affairs," Yousuf Raza Gilani told Pakistan's private ARY-OneWorld television.
"Such statements will not help in the normalization of friendly relations between the two countries, and will hurt the sentiments of people on both sides of the border," he said.
Gilani added that his country wants "friendly" ties with Afghanistan.
Karzai's comments came as Afghan and coalition forces killed more than 15 insurgents and captured five while searching for militants who escaped in a daring jail-break in the southern city of Kandahar.
The jail breakout, which saw hundreds of Taliban fighters take flight, has come as major blow to efforts to suppress the extremists, just as coalition forces appeared to be gaining the upper hand
In his address Sunday, Karzai named several militant leaders by name -- including Baitullah Mehsud, the leader of the Pakistani Taliban. .
Mehsud had been identified by Pakistan President Pervez Musharraf's administration as the mastermind behind last year's assassination of former prime minister and opposition leader Benazir Bhutto. The CIA reached the same conclusion.
Last month, Pakistan's new government said it was negotiating a deal with the Mehsud tribes of South Waziristan that involved exchanging prisoners and withdrawing Pakistani forces. Amid the negotiations, Baitullah Mehsud declared a cease-fire.
"Baitullah Mehsud should that know we will go after him and hit him in his house," Karzai said.
He added: "The Pakistani government should know it. We will come and hit him there, wherever he is."
The issue of cross-border raids came to the forefront last week after a U.S. military airstrike inside Pakistan soil killed 11 Pakistani troops.
A U.S. official with knowledge of the incident told CNN that Tuesday's airstrike targeted suspected militants who had fled into Pakistan after conducting an ambush on the Afghan side of the border.
The official said the mission was permitted under the rules of engagement, which allow "hot pursuit" across the border of suspected militants when locations are verified.
The top spokesman for the Pakistan army, Gen. Athar Abbas, told CNN that the airstrike occurred after U.S. forces were called in by Afghan troops who had engaged in a border clash with Taliban forces.
The Taliban forces fired on the Afghan troops as they tried to set up a checkpoint in a disputed area along the Afghan-Pakistan border, Abbas said.
The Afghan troops then called for help from the U.S.-led coalition forces, which carried out an airstrike on positions where Pakistani paramilitary forces were stationed, Abbas said.
E-mail to a friend

Journalist Farhad Peikar contributed to this story
All About Afghanistan • Pakistan • NATO • Afghanistan War