ISLAMABAD, Pakistan (CNN) -- Pakistan reacted sternly Monday to comments by Afghan President Hamid Karzai, who said Afghani troops could enter Pakistan to confront Islamic militants.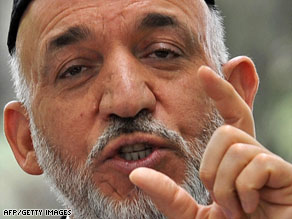 Hamid Karzai says his troops have the right to cross into Pakistan to pursue militants.
The foreign office summoned the Afghanistan ambassador and lodged a "strong protest," a spokesman said. Pakistan also vowed to defend its territorial sovereignty and hoped Karzai's comments were "not the re-initiation of the blame game by Afghanistan."
Spokesman Mohammad Sadiq said Afghan soldiers as well as coalition troops could take "whatever action they want" on the Afghan side of the border. The Pakistan military, he said, would handle matters on its side.
"Any statement that negated this basic principle and did not show respect for the territorial sovereignty would not help in the war on terrorism and could be counterproductive," Sadiq said in a statement. "Pakistan shall defend its territorial sovereignty."
Karzai warned Sunday that his troops could cross the border into Pakistan to pursue militants who had been launching attacks inside his country.
"Afghanistan has the right of self-defense when they [the militants] cross territories," Karzai told reporters. "It exactly gives us the right to go back and do the same."
Both Pakistan and Afghanistan are key U.S. allies in the fight against Islamic terrorism.
Each is battling Islamic militants who, security analysts say, operate from havens in Pakistan's lawless tribal regions near the country's 1,500-mile porous border with Afghanistan.
The militants are accused of launching deadly attacks targeting troops and civilians in both countries.
Until now, Karzai has pleaded with Pakistan and international forces to take on the militants.
Speaking to reporters at a news conference Sunday, Karzai said his administration's "patience was running thin." He said the cross-border attacks had destroyed homes and schools.
"This is a two-way road, and Afghans are good in two-way road journeys," he said. "We will complete the journey, we will get them and we will defeat them. And we will avenge all that they have done in Afghanistan for the past so many years."
The issue of cross-border raids came to the forefront last week after a U.S. military airstrike inside Pakistan killed 11 Pakistani troops.
A U.S. official with knowledge of the incident told CNN that Tuesday's airstrike targeted suspected militants who had fled into Pakistan after conducting an ambush on the Afghan side of the border.
The official said the mission was permitted under the rules of engagement, which allow "hot pursuit" across the border of suspected militants when locations are verified.
The top spokesman for the Pakistan army, Gen. Athar Abbas, told CNN that the airstrike occurred after U.S. forces were called in by Afghan troops who had engaged in a border clash with Taliban forces.
The Taliban forces fired on the Afghan troops as they tried to set up a checkpoint in a disputed area along the Afghan-Pakistan border, Abbas said.
The Afghan troops then called for help from the U.S.-led coalition forces, which carried out an airstrike on positions where Pakistani paramilitary forces were stationed, Abbas said.
E-mail to a friend

-- CNN's Zein Basravi contributed to this story
All About Afghanistan • Pakistan • NATO • Afghanistan War