By Steven Jiang
For CNN





Editor's note: "Beijing Journal" is an occasional series examining China's capital as it prepares for the 2008 Summer Games.
BEIJING, China (CNN) -- Enwei Lien's job title belies the unusual duties he has performed in the past few months.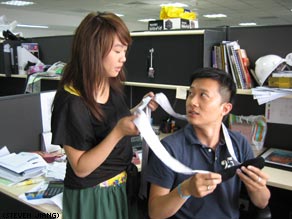 Enwei Lien (right) tries on one of the more unusual amenities his hotel offers.
The director of guest experience at the Opposite House, one of the city's newest luxury hotels, sniffed and tested a few dozen shampoo and lotion samples.
"It was rather interesting at first," acknowledged the 34-year-old Taiwan native who has worked in the industry for eight years. He eventually picked a high-end local brand that combines all natural ingredients with a Tibetan herb flavor.
Lien and his colleagues also designed a black suede eye mask with extra-long gray silk ribbons to be placed in rooms reserved by honeymooners.
"We want to be suggestive but not explicit," he said.
Lien's aim is crystal clear: Setting his hotel apart from the competition when it welcomes its first guests early August right before the Beijing Olympics start.
Springing up in the middle of the hopping Sanlitun nightlife district, the 99-room property boasts a stunning green glass exterior, ultra-modern rooms and restaurants manned by world-renowned chefs.
"We are an intimate hotel with big rooms and full facilities at an unbeatable location," Lien offered the perfect sales pitch. But rivals are closing in -- from both international chains and local boutiques.
A short drive away from the Opposite House, owned by British conglomerate Swire Group, workers are putting the finishing touches on a Westin and a Park Hyatt, while the construction of a Mandarin Oriental rages on.
Old dormitories a stone's throw from the Forbidden City and courtyard houses nestled between ancient alleyways have also been converted to chic lodgings, aiming to draw the same sophisticated travelers targeted by Lien's hotel.
Eighteen upscale hotels are scheduled to open in Beijing in 2008, adding more than 7,100 rooms to the Chinese capital, according to real estate consulting firm Jones Lang LaSalle.
"We actually capped our booking at only 50 percent of capacity during the Olympics so that we can iron out any initial kinks," Lien explained.
It might seem like a rather-curious decision, but it has turned out to be not only prudent but wise, as the hospitality sector faces an unexpected slump ahead of the world's biggest sporting event.
The sudden tightening of visa regulations by the Chinese government, coupled with rising costs of traveling to China thanks to soaring fuel prices and a strong local currency, has forced many businessmen and tourists to cancel or delay their trips.
As the authorities have also put a brake on most large gatherings in Beijing out of security concerns, industry insiders say the occupancy rate at some of the city's major hotels is only half of their usual 80 to 90 percent range this time of the year.
Although some properties are reportedly charging as much as 10 times their normal rates and demanding a minimum weeklong reservation during the Olympics, Chinese officials have admitted there are still plenty of rooms available in Beijing throughout the Games period -- with only 77 percent of capacity at the city's five-star hotels booked.
None of the news has affected the priorities of Lien and his 40-strong team.
Undaunted by heated competition, they have been focusing -- and spending -- on the details that they hope will appeal to a long-term discerning clientele.
"Our toiletry set costs $15 per room per night, twice the budget set by other five-star properties," Lien gave a few examples.
"Instead of the same old mint on the pillow, our turndown amenities include custom-made teddy bears for kids, and vintage postcards and designer cell phone straps for adults.
"We want to offer our guests something totally different, something refreshing," he said, with the "suggestive" eye-mask in his hand.
E-mail to a friend

Steven Jiang is a Beijing-based freelance writer and former CNN producer.
All About Beijing • China • Olympic Games