BEIJING, China (CNN) -- The death toll from last month's massive earthquake in southwestern China is expected to exceed 80,000, state media reported Tuesday.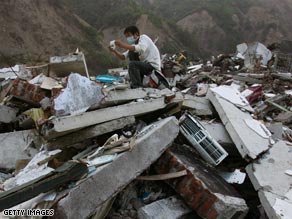 A rescuer looks at a photo pulled from the debris following the quake in China.
Officially 69,181 people are dead with another missing 18,498, according to authorities.
"Because it is presumed that the missing people are already dead, the total death toll of this disaster is likely to exceed 80,000," said Vice Premier Hui Liangyu.
If all the missing are dead, then the death toll would top 87,000.
The magnitude 7.9 quake devastated Sichuan province and surrounding areas on May 12, leaving more than 5 million people homeless.
On Monday China reported it had fired 12 officials for dereliction of duty and misuse of earthquake relief.
Supervision Minister Ma Wen said her department had received 1,178 complaints involving officials' response to the May 12 quake in Sichuan province and had dealt with more than 1,000 of them.
Administrative punishments were handed out to 43 officials, the most serious being removal from office, Ma said at a news conference. She didn't specify when the officials had been fired.
E-mail to a friend

All About China • Sichuan Province