(CNN) -- Up to two dozen militants and four more foreign troops in Afghanistan have been killed in fighting since Tuesday, according to the U.S.-led coalition and the British military.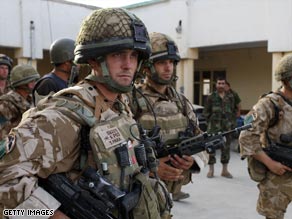 British troops on patrol in Afghanistan as part of the U.S.-led coalition.
A coalition service member was killed in southern Afghanistan on Wednesday morning.
The service member was hit by a roadside bomb in Helmand province during a foot patrol, authorities said.
Three other service members were wounded. A day earlier, two British soldiers were killed in the same province: one, as he checked for mines in the Upper Sangin Valley; the other -- who was with the NATO-led International Security Assistance Force (ISAF) -- died during fighting.
Tuesday also saw the death of another NATO soldier: an ISAF service member who died from wounds suffered when a vehicle struck a mine in Nangarhar province in the east.
The deadly encounters are the latest in an intense spring and summer in Afghanistan, where a U.S. commander told reporters that attacks on allied forces are up about 40 percent over last year.
More than 30 foreign troops have been killed so far this month in Afghanistan, the original front in the "war on terrorism" launched after the September 11, 2001, attacks on New York and Washington.
The increase in violence stems not only from a stepped-up pace of attacks on U.S. and allied troops in eastern Afghanistan but also from the movement of American and Afghan forces into previously unoccupied territory.
The U.S. led-coalition said militants in Paktika province attacked two district centers in the province on Tuesday. Police responded with small-arms fire and called in coalition air support. Around 22 militants were killed.
Soldiers searching for a militant leader in Helmand killed "several armed militants" with small arms fire and airstrikes on Tuesday, the coalition said. Twelve people were detained.
Coalition troops in Ghazni province on Tuesday detained five militants and wounded two people in fighting, one a suspected militants and the other a man not believed to be involved with insurgents.
E-mail to a friend

All About Afghanistan • The Taliban