PYONYANG, North Korea (CNN) -- President Bush said Thursday the U.S. plans to drop North Korea from its list of states that sponsor terrorism after that nation made a long-awaited declaration of its nuclear program.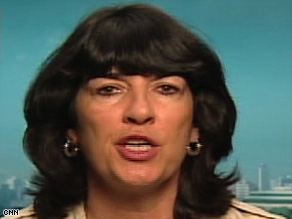 CNN's Christiane Amanpour is to witness the destruction of part of a North Korean nuclear reactor Friday.
North Korea on Thursday handed documents about its nuclear program to officials from China, a step North Korea agreed to take during six-nation talks aimed at persuading it to end its nuclear activities.
On Friday, North Korea is expected to blow up a key part of its nuclear reactor at Yongbyon.
CNN's Chief International Correspondent Christiane Amanpour talked to John Roberts of "American Morning" about what North Korea declared and what negotiators hope the country will reveal next.
ROBERTS: President Bush described this as one step in a multistep process. What occurred in this step and then what further steps need to be taken?
AMANPOUR: This declaration should have been given at the end of 2007. However, here we are, the end of June 2008, and they have handed over their nuclear declaration.
Don't Miss
From what we know, it's about 60 pages. According to what President Bush says, it deals with all the plutonium activities, papers going back to 1986. It has a lot of information that needs to be given about all its plutonium production and extraction. That means taking the very potent plutonium out and making some nuclear weapons with it, which North Korea has done so.
Also, concurrently, North Korea has been systematically disabling the Yongbyon nuclear reactor. It's done so under the eyes of the IAEA [International Atomic Energy Agency] and, indeed, U.S. technical experts ... have been helping with the disablement. And this is a continuous presence. When we were there, [having been given] unprecedented access back in February, we were able to see for ourselves that the reactor has been shut down. Plutonium production no longer is occurring and the reprocessing is no longer occurring.
Experts say that by this process, this means that no new bombs of plutonium are being made, no better bombs, and it makes it much less likely that North Korea is able to export its knowledge, its expertise or any material that could be used for nuclear weapons.
In return for that, you heard President Bush say that he is going to be removing ... North Korea from the list of states that sponsor terrorism, and he's going to be removing some sanctions under the Trading with the Enemy Act. This is a very carefully sequenced ... process by which to eventually, they hope, disarm North Korea.
As a statement and a commitment of goodwill and intent, North Korea is going to blow up its cooling tower at Yongbyon ... Friday afternoon, North Korea time, and we will be there to witness that.
ROBERTS: One of the issues that President Bush said is extremely important here ... is North Korea handing over the plutonium that it extracted from the Yongbyon reactor. Have you talked with any North Korea officials there about that particular point? Do they appear to be willing to hand over that plutonium?
AMANPOUR: The last time I was here, I had an exclusive meeting with North Korea's chief nuclear negotiator. The last time was during February, the time when the [New York Philharmonic Orchestra] came to visit, and at that time, people were describing the state of affairs as an impasse between the two countries.
North Korea's nuclear negotiator said ... it was not an impasse -- that they continue to speak, [that] they continue to try to resolve this situation. And he said the country is committed to this -- not just to the stage we've reached now, but also to future stages of handing over the plutonium, dealing with all of that.
And as you know, Phase 3, which is [a] subsequent phase of these negotiations, deals with much more detailed declarations of what North Korea has been doing with its nuclear facilities, including the weapons, the weaponization and all of that. And it's at that time -- that means after ... this weekend, when the six-party talks resume -- that they are expected to come up with ... a much more complete declaration of what it's been doing at Yongbyon. And then they also, as you heard from President Bush, need to talk about enrichment and proliferation.
E-mail to a friend

All About North Korea • Nuclear Weapons • George W. Bush