KATHMANDU, Nepal (CNN) -- Nepal's octogenarian Prime Minister Girija Prasad Koirala resigned Thursday, ending two months of political deadlock following elections for a constituent assembly in April.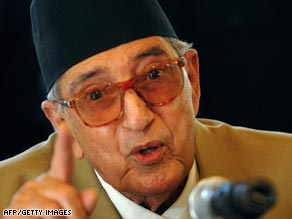 Nepal's Prime Minister Girija Prasad Koirala has resigned after two years in the job.
"I would like to announce my resignation from the post of prime minister in this constituent assembly," Koirala, 84, told the 601-member assembly.
Nepal's former rebels, the Communist Party of Nepal (Maoist), which became the largest party but fell short of a majority in the April elections, is now expected to form the new government.
"Koirala's resignation today is just a political statement which means that the government has now become a caretaker one," said Bhim Rawal of the Communist Party of Nepal (Unified Marxist Leninist) . "He will now have to formally hand in his resignation to the president once one is elected."
"Only after a president is elected, will a new government be formed," said Rawal.
Announcing his resignation Koirala said: "You political parties should not forget the path of unity and cooperation, even if it is minus Girija Prasad Koirala."
Nepal became a republic last month ending a 239-year-old monarchy but is still to get its first president.
Koirala's resignation Thursday follows a 22-point agreement Wednesday among Nepal's ruling seven-party coalition to elect a president and prime minister through a simple majority of the constituent assembly.
April's elections, the declaration of a republic and the drafting of a new constitution, the main task of the constituent assembly, are parts of a peace process following 10 years of fighting between the Maoists and the state which ended in November 2006 with a peace deal.
E-mail to a friend

All About Nepal • Communist Party of Nepal (Maoist) • King Gyanendra