HONG KONG, China (CNN) -- From treks in the Arctic circle to luxury "eco-lodges" in Costa Rica, there are many types of vacations and holiday companies that like to highlight just how much they care about the environment.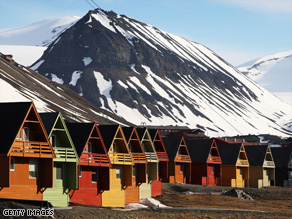 Pioneering spirit: Holidays to places as remote as the Arctic circle have to be carefully balanced.
But with such a wide variety of activities and places that huddle under the banner "eco-tourism," it seems almost impossible to tell just what the term really means.
"We've always believed that there is no such thing as eco-tourism. It's always been a marketing ploy and no more than that," says Tricia Barnett, chief executive of Tourism Concern, a UK charity that campaigns against exploitation in tourism.
"There's an extraordinary amount of evidence to show that eco-tourism, like all forms of tourism, is not necessarily sustainable, and the name alone doesn't make it sustainable. It can be as abusive as any other form of tourism, maybe sometimes more abusive because it wants to go to areas where indigenous people live."
The International Ecotourism Society (TIES), however, asserts that successful ecotourism has been implemented, and is supported by industry and academic research. The groups claims benefits can be gained if certain principles are followed (statement from TIES)
While holidays can be ecologically sound through careful consideration of the environment and respect to local eco-systems, Barnett suggests the trickier aspect of ethics is often overlooked.
"Ethics are wrapped up not just in the environmental, social and cultural but also the economics of your holiday and often it's not very ethical to go on holiday if people are being exploited through that."
When it comes to trying to ensure that local people are not exploited in the name of tourism, the fragmented nature of the tourism industry makes accountability a difficult task.
"There are so many aspects to a holiday, so many people have to resource different parts of it, that it's incredibly difficult to get contract compliance all the way down the supply chain," Barnett says.
Community tourism is a new form of tourism that seeks to keep the well-being of both the local people and environment in the highest regard, as well as being a model for sustainable development.
Don't Miss
Staying with local families in their villages and taking part in their everyday activities is as authentic an experience as many travelers will get.
The Community Based Tourism Initiative in northern Thailand is one model that has been working with fishing villages and hill tribes, building up their capacity to deal with tour operators and forge equal partnerships.
"The advantage is that you pull the market towards you in these places," says Bodhi Garrett who runs Andaman Discoveries tour company on the Andaman coast of Thailand.
"You get less of the resort types and more of the adventurous types. And the more of those that come, the more locals will perceive that as the profitable option."
While well-meaning, volunteering holidays -- a booming area that falls under the catch-all of eco-tourism -- are coming under increasing scrutiny.
"Often the emphasis is on the experience of the volunteer, but for us the emphasis should be on the benefit to the community," says Garrett.
Tricia Barnett of Tourism Concern's tips on how can you have an environmentally and ethically sound vacation
Do some research:
The biggest tour operators all have rules about labor conditions, but it's hard to know what they do to ensure they are respected. Generally there is still loads to be done, which means that people wanting to go on holiday, and the types of holidays they choose, can have a really big impact.
Ask questions:
Ask your operator what they do with local communities. Find out how the locals are involved and the more questions you can ask the better. They might be questions that they don't know the answer to but will have to think about, and they are even better. Things like, "Will my shower water be coming from local wells?" Basic questions that might be uncomfortable and the tour operators should really shift gear.
Be fair:
Even where haggling is part of the shopping culture, Barnett suggests that the pursuit of rock-bottom prices is not the fairest option: "When you get to your destination you have to recognize that bargaining down to the last cent is not the most positive way of encouraging people to come out of poverty."
Go independent:
Independent travel can be brilliant. It can leave more money in the local community, you're more likely to stay locally and you're more likely to stay longer and get to know people. Often economies can benefit from the money in your pocket rather that the fee that you have pre-paid.
E-mail to a friend