ISLAMABAD, Pakistan (CNN) -- Pakistani paramilitary troops have destroyed several Taliban outposts and uncovered a jail where they kept kidnap victims, the interior ministry says.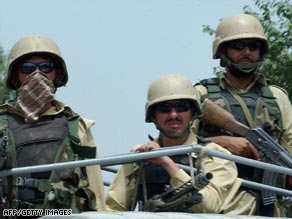 Pakistani soldiers on patrol in the Kyber tribal district, where the government has launched an offensive.
The offensive against Taliban in Pakistan's tribal region entered its third day Monday and was almost complete, the ministry said.
Acting Interior Minister Rehman Malik said the Taliban kept kidnap victims in the "jail" while waiting for ransom payments.
The operation, launched Saturday, is the biggest push against extremists in Pakistan's northwestern tribal region since the country's civilian government took power in March.
It is taking place in the Khyber section of the tribal region -- located west of Peshawar, the capital of the North West Frontier Province (NWFP). And it comes as the new administration announced it would get tough with radicals in the region.

Watch an analyst explain the importance of the operation »
On Monday, a blast in the Khyber section destroyed a militant compound and killed several people. Malik said it was not a result of the security operation.
The blast may have been accidental or set off by militants as they fled the area, he said. It occurred at a weapons depot belonging to local militant leader Mullah Namdar, who is suspected of carrying out cross-border attacks inside Afghanistan.
Once the operation ends in the Khyber section, the government will target another area, Malik said. He did not disclose its location.
E-mail to a friend