By Mark Bixler
CNN
(CNN) -- President Nambaryn Enkhbayar of Mongolia has declared a state of emergency in the capital of Ulaanbaatar after a post-election political rally descended into violence.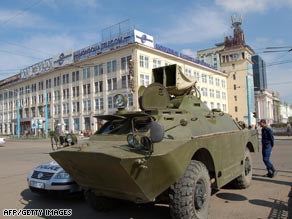 A mobile personnel carrier on patrol of the streets of Ulaanbaatar.
Five people were killed and 220 were wounded in the rioting, and authorities detained more than 500 people, according to the Mongolian news agency, Montsame.
Police were blocking major arteries into the capital Wednesday after the president suspended most television broadcasts and imposed an overnight curfew, said William Infante, Mongolia director for The Asia Foundation, a nonprofit organization that seeks to bolster democratic institutions.
The demonstrators were upset about the prospect of a victory in Sunday's parliamentary elections by the ruling Mongolian People's Revolutionary Party, Infante said. More than 8,000 people attended the demonstration but only 200 to 300 rioted, Montsame reported.
Fire destroyed a building housing the party headquarters, and one person inside died of smoke inhalation, the news agency said, while a Japanese reporter was seriously wounded.

Watch as protesters mob the ruling party headquarters »
Parliament was to meet in emergency session Wednesday to discuss the crisis, Montsame reported.
About 1,500 security forces, including 200 soldiers, were dispatched to maintain order, the news agency said, noting that 90 percent of those detained were younger than 35.
"The legal and supervisory authorities were controlling the provocation from the very beginning ..." Montsame reported. "There is no leader of the political parties, coalitions and political forces among the detainees."
The U.S. Embassy said Wednesday it was "deeply concerned about the violence" that prompted the state of emergency.
The violence was unusual for Mongolia, which made the transition from communism to democracy in the early 1990s. Four previous parliamentary elections were free and fair, and they passed without incident, Infante said.
"I think Mongolians are shocked. This was completely unexpected," he said. "The sentiment is one of profound disappointment."
E-mail to a friend