By Saeed Ahmed
CNN

(CNN) -- It pays to go in a small south Indian town.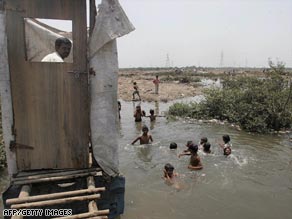 A slum resident in India uses a toilet that opens into the water below as children swim.
The remote town of Musiri in the Tamil Nadu state has hit upon a unique idea to teach its residents proper hygiene: Pay them money each time they use the toilet.
Users can make up to $0.14 a month to relieve themselves in a specially constructed toilet. Not a princely sum, but it's extra cash flow that low-income residents can make just for answering nature's call.
The government-backed program serves two purposes: It encourages people to discard age-old practices of urinating and defecating in the open, leading to diseases. And the waste products go into research to test their effectiveness as fertilizers.
"We're motivating people to know the value of their urine," said Marathi Subburaman, who came up with the novel idea. "The urine that is collected goes into fields for paddy crops, and of course the feces becomes good compost in a matter of months."
Aid groups estimate that more than 330 million people in India do not have access to proper sanitation facilities. And in the case of Musiri, many residents relieve themselves on river banks, leading to infectious diseases such as diarrhea.
And while both governmental and non-governmental agencies have taken on projects to build toilets in rural areas, they also have had to undertake campaigns to encourage people to use them.
The Musiri plan seems to be working, Subburaman said. About 150 residents use the eco-sanitation toilet daily. It has special chambers that collect the fecal matter that researchers then use as fertilizer.
It's a win-win scenario, said Subburaman.
His nonprofit Society for Community Organisation and People's Education (SCOPE) has teamed up with Tamil Nadu Agricultural University, and the two are studying how much urine is needed to fertilize a field.
"Next year, we can install urine banks so we can sell the urine to farmers," he said.
For now, residents queue up twice a day. They are given cards on which each trip is marked off. At the end of the month, residents can cash out the cards, making up to $0.14.
Subburaman arrived at the amount by calculating that an average person will need to relieve himself two times for each of the 30 days and make 10 paisas per visit.
"If they ask to go three, four times a day, then something's wrong," he said. "We ask them to go to a doctor."
E-mail to a friend