SRINAGAR, Indian-controlled Kashmir (CNN) -- The top Indian elected leader in Kashmir resigned Monday after weeks of protests that have left seven people dead.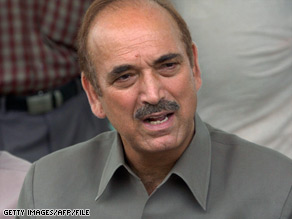 Azad announces the reversal of a controversial land decision in June.
Some assembly members had expected Chief Minister Ghulam Nabi Azad to ask for a vote of confidence and he seemed to surprise everyone when he announced: "I am resigning."
Azad made the announcement during a 90-minute speech to a special session of the state assembly.
During the speech Azad focused mostly on his efforts to bring peace and normalcy to the troubled region during his 31 months in the post.
Kashmir -- a predominantly Muslim region that has seen frequent battles -- faced a new wave of violence when the government announced last month it would transfer forest land to a Hindu shrine board that manages an annual pilgrimage.
Muslim groups protested the move and clashes erupted. When the government announced it was canceling the planned transfer, there were more clashes -- this time involving Hindus angry at the cancellation.
The news agency Press Trust of India, partly owned by the Indian government, reported Monday that a seventh person died from injuries sustained amid the violence -- a protester who had been wounded in a grenade attack during a rally.
Government officials have also said 400 people were injured in the violence.
The People's Democratic Party (PDP), a key alliance partner for the region's ruling coalition, announced that it was withdrawing its support.
Some members of the assembly expected Azad to seek a vote of confidence in the wake of the PDP's decision.
Kashmir is now likely to be placed under gubernatorial rule before elections for the next state assembly in October.
Both India and Pakistan control parts of the 86,000-square-mile region of Kashmir.
The two nations have fought two wars over the region. China also controls a part of Kashmir.
For the past 18 years, Kashmir also has been wracked by a bloody separatist campaign.
Authorities say 43,000 people have been killed in violence. Some human rights groups and non-governmental organizations estimate the death toll at twice that figure.
E-mail to a friend

Journalist Mukhtar Ahmad in Srinagar contributed to this report
All About Jammu and Kashmir