By Deb Krajnak
CNN

(CNN) -- Afghanistan lawmakers have urged a review of how a TV talk show host came to be detained by intelligence agents, a lawmaker said.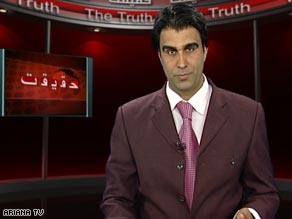 Journalist Nasir Fayaz was arrested on Monday in Kabul.
Journalist Nasir Fayaz was arrested in Kabul on Monday -- the day after a segment of his show was pulled off air.
The pre-taped segment for Fayaz's weekly "Haqiqat" show, or "Truth," on Ariana Television featured Daoud Sultanzoy, a critic of President Hamid Karzai.
Sultanzoy said the segment with his comments was to come at the end of Sunday's show, but before it aired, the government ordered Ariana to stop the show, which it did.
He said he was told that someone issued the order in a phone call from the Presidential Palace.
Fayaz was subsequently arrested, and was released Wednesday by the Afghan National Directorate of Security, Ariana spokesman Abdul Merzai told CNN. He said the case is being reviewed by the attorney general's office.
"For now, we don't have any plans" to resume the show, Merzai said. He said Fayaz would work on another program, as yet undetermined.
Sultanzoy said the lower house of parliament passed a resolution Wednesday denouncing the action as interfering with freedom of the press and urging an independent review of the circumstances surrounding Fayaz's arrest.
He said: "I was watching the show to see what part of my interview was aired. When it was my turn, they all of a sudden replaced it with music."
He said that when he was unable to contact Fayaz for an explanation, he called the station, where someone in programming told him what had happened.
"Only my portion was not aired," Sultanzoy said. He called his the "culminating" comments of the show, saying he covered the social reforms he thinks are needed but have not been adequately addressed by Karzai's government.
The lawmaker said the debate was nothing new -- "these are the topics people are dealing with in daily life."
Sultanzoy, who said he raised the issue in parliament of Fayaz's detention, accused government officials of violating Article 34 of Afghan's Constitution by interfering with freedom of the press.
Afghan law has due process provisions in cases where a journalist is accused of violations. It calls for the creation of an independent investigative committee composed of lawyers, journalists and other professionals, Sultanzoy said.
E-mail to a friend

All About Afghanistan