TOKYO, Japan (CNN) -- Japanese Prime Minister Yasuo Fukuda has reshuffled his Cabinet in an effort to boost his sagging political clout.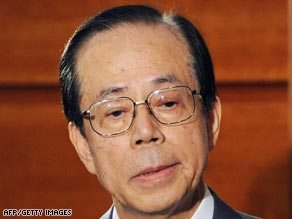 Japan's Prime Minister Yasuo Fukuda is trying to boost his sagging support.
The prime minister asked the Cabinet on Friday to resign en masse "amid the recent surge in commodity prices and Japan's aging society," the Kyodo news agency said.
The government issued an e-mail identifying the new lineup.
Finance Minister Bunmei Ibuki and Minister of State for Economic and Fiscal Policy Kaoru Yosano joined the Cabinet. Yasano is known for supporting tax hikes.
Seiko Noda, a popular young female politician, has been chosen as Minister of State for consumer affairs, space policy, food safety, and science and technology.
Foreign Minister Masahiko Kohmura, Chief Cabinet Secretary Nobutaka Machimura, and Health Minister Yoichi Masuzoe remain.
The changes are meant to increase the Cabinet's sluggish approval rating -- major media organizations reported poll results this month showing the Cabinet's approval rating at less than 30 percent, Kyodo reported.
The changes come about six weeks after Japan's opposition-controlled upper house of parliament approved a motion of no-confidence in Fukuda.
It was the first time a chamber of parliament has passed such a censure in the country's post-war history, but the motion was non-binding and largely symbolic.
No-confidence motions only count in Japan when approved by the lower house, which is currently controlled by Fukuda's political party.
Even so, analysts say the no-confidence motion was a stinging rebuke for a prime minister whose popularity plummeted after his government introduced a medical plan in April for people over age 75. It raises premiums and deducts healthcare expenses from pension payments.
The government has said the plan is unavoidable in a country with one of the world's largest aging populations. Opposition parties have criticized it for its effect on one of the most vulnerable segments of society.
E-mail to a friend