(CNN) -- Al Qaeda ended days of speculation Sunday by confirming that one of its chemical weapons experts was killed last week along with three other "heroes," according to a statement posted on a radical Islamist Web site.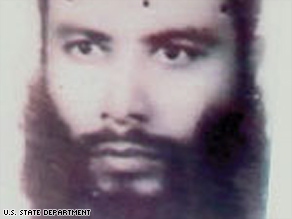 Midhat Mursi al-Sayid Umar was among four "heroes" killed last week, an al Qaeda statement says.
The statement, dated July 30, provided no details on how or when the al Qaeda operatives were killed. It was signed by al Qaeda's top leader in Afghanistan, Mustafa Abu al-Yazid.
A senior Pakistani official said last week it was a "near certainty" that weapons expert Midhat Mursi al-Sayid Umar died in a U.S. airstrike Monday in Pakistan's tribal region.
Pakistani Prime Minister Yousuf Raza Gilani said that if reports of the strike were true, the U.S. violated Pakistani sovereignty.
Umar, who is also known as Sheikh Abu Khabab al-Masri, was on the U.S. State Department's list of 37 wanted terrorists, and the U.S. had offered $5 million for information leading to his death or arrest.
"Although Abu Khabab is gone, he left behind him a generation who will seek revenge and punishment with God's help," the al Qaeda statement said. "And while the 'expert' is gone, he left behind experts who were taught and trained under his hands throughout the years."
Don't Miss
Umar was killed along with Abu Mohammed Ibrahim Bin Abi al-Faraj al-Masri, Abd al-Wahab al-Masri, and Abu Islam al-Masri, the statement said.
Umar, a 55-year-old Egyptian, ran a chemical-and-explosives training camp for terrorists in Derunta, Afghanistan, before the fall of the Taliban, U.S. officials said.
"Since 1999, he has distributed training manuals that contain instructions for making chemical and biological weapons," according to the U.S. Rewards for Justice program. "Some of these training manuals were recovered by U.S. forces in Afghanistan."
Rewards for Justice said Umar was believed to be in Pakistan, continuing to train al Qaeda terrorists and other extremists.
He was reportedly near the site of a U.S. airstrike more than two years ago in the Pakistani mountain village of Damadola. The strike targeted a dinner gathering believed to include terrorists. Initial reports that Umar died in the January 2006 strike later proved erroneous.
E-mail to a friend

All About Al Qaeda • Pakistan • U.S. Department of State