NAIROBI, Kenya (CNN) -- One of the FBI's most wanted terrorists escaped a raid over the weekend, Kenyan police said Monday.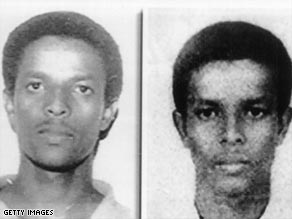 Fazul Abdullah Mohammed, a suspected terrorist, is shown in photos released by the FBI.
Fazul Abdullah Mohammed, indicted in the United States for alleged involvement in the 1998 bombings of U.S. embassies in Kenya and Tanzania, managed to evade police in a raid Saturday morning in Malindi, along Kenya's coast, said police spokesman Eric Kiraithe.
The United States calls Mohammed a senior al Qaeda operative in East Africa.
U.S. officials accuse him of being an architect of the embassy bombings that killed 225 people.
They also believe Mohammed was involved in attacks on an Israeli-owned hotel and airliner in Kenya in 2002.
Kiraithe said Kenyan authorities received information from "local intelligence networks" that led them to conduct the raid, which involved no foreign intelligence officials.
He said police know Mohammed had, in fact, been at the location they raided, because they found two passports under names Mohammed has used. Kiraithe did not say what countries the passports were from.
A massive manhunt is under way for Mohammed in Malindi and surrounding areas, "more intensive than ever before because we wouldn't want to miss him now," Kiraithe said.
Don't Miss
The U.S. offers a reward of up to $5 million for information leading to his apprehension or conviction.
Mohammed has escaped capture and attacks before. Early last year a U.S.-led air strike in Somalia failed to kill him. In 2003, Kenyan police said he escaped authorities.
In December 2007, the U.N. Security Council amended a list of 25 al Qaeda suspects subject to sanctions, including Mohammed. The description of Mohammed offered numerous aliases and said he had "reportedly undergone plastic surgery."
The FBI description says Mohammed was born in the Comoros Islands, and has used birth dates indicating he was born in either 1972 or 1974. He also has citizenship in Kenya, the description says.
It adds, "Mohammed likes to wear baseball caps and tends to dress casually. He is very good with computers."
E-mail to a friend

All About Al Qaeda • Kenya • United Nations Security Council