BEIJING, China (CNN) -- Authorities have stepped up security ahead of this month's Beijing Olympics after an attack killed 16 police officers and injured 16 more in northwestern China, state-run media reported on Tuesday.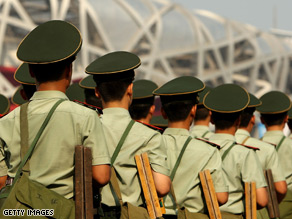 Chinese soldiers patrol near the National Stadium in Beijing.
The increased police presence in the Xinjiang Uygur Autonomous Region could be seen in the form of increased security checkpoints on roadways and around government buildings, schools and hospitals, according to the Xinhua news agency.
In the capital Beijing, 2,500 miles from Kashgar, a security force of 100,000 is on standby and anti-aircraft missiles have been stationed near the "Bird's Nest" Olympic stadium.
"We are prepared to deal with any kind of security threat and we are confident we will have a safe and peaceful Olympic Games," Sun Weide, an official with the Beijing organizing committee, told Britain's Guardian newspaper.

Watch a report on how China is stepping up security ahead of the Olympics »
During Monday's attack in the border city of Kashgar -- also known as Kashi -- two men crashed a dump truck into a group of police officers before throwing at least five homemade explosive devices into their barracks, Xinhua reported.
Police, who suspect a terrorist plot behind the incident, arrested both attackers and identified them as two Uygur men, ages 28 and 33.
Don't Miss
The Xinjiang Uygur Autonomous Region -- also called East Turkistan -- is home to a Sunni Muslim ethnic minority.
Uygurs in Xinjiang are supposed to enjoy regional autonomy, as guaranteed by China's constitution, but some seek independence.
Millions of Han Chinese, the country's dominant ethnic group, have migrated into Xinjiang over the past 60 years, prompting complaints that they dominate local politics, culture and commerce at the Uygurs' expense.
The dissatisfaction has turned violent at times, including several and sometimes deadly bus bombings in 1992 in the provincial capital, Urumqi.
Officials blamed such incidents on Uygur groups who seek an independent Muslim state.
China insists only a small minority of Uygur support the separatists.
The regional public security department said it received intelligence suggesting that the "East Turkistan Islamic Movement" planned to make terrorist attacks between August 1-8, Xinhua reported.

Watch a report on the significance of the attack »
The movement wants an independent, self-governing Xinjiang.
The attack came just four days before the start of the Summer Olympic Games in Beijing.
Last month, police said they had cracked five terrorist groups in the autonomous region where Monday's attack happened. Authorities said the groups were plotting to sabotage the Olympics, Xinhua reported.
E-mail to a friend

All About China • Olympic Games