(CNN) -- "Where's the beef, Kobe?" That's what many U.S. basketball fans will be asking as their team of NBA superstars takes to the hardwood in pursuit of the gold medal in Beijing.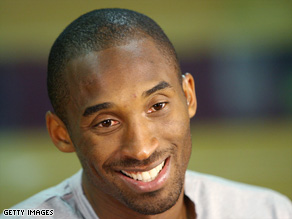 Hitting the hardtop in Beijing, Bryant is aiming for Gold with Team USA.
And for Kobe Bryant, a prodigiously talented member of the team, the pressure is on to reproduce the form that made him the NBA's most valuable player of 2008.
When he lines up for the U.S. "Dream Team" in Beijing, Bryant will be making his first appearance at an Olympic Games and a gold medal is just about the only thing that he hasn't won in a stellar career.
The son of professional basketball player Joe Bryant, Kobe was born in Philadelphia in 1978, moving to Italy with his family at the age of 6.
He moved back to United States in 1991 and made the decision to move straight to the NBA from high school, forsaking the usual route via the competitive world of college basketball.
Bryant joined the Los Angeles Lakers in 1996 despite being initially drafted by the Charlotte Hornets. He was immediately traded to the Lakers, the team that he always wanted to play for.
His career in the game has almost been unrivaled in NBA history -- a 10-time NBA All-Star and three-time winner of the NBA championship between 2000 and 2002.
He was voted this year's most valuable player in the NBA, despite the Lakers losing to the Boston Celtics in this year's championship finals.
Universally admired for his play on the court, he has taken a few knocks off it. As well as a publicized feud with his then team-mate Shaquille O'Neal, Bryant was accused of sexual assault in 2003 by a then-Colorado hotel employee.
The accusations were denied by Bryant and eventually the criminal charge was dropped. Bryant delivered a public apology to the accuser, and the incident damaged his reputation -- many of his highly lucrative sponsorship deals were subsequently dropped.
A few tough seasons followed with the Lakers, with his coach Phil Jackson calling him "uncoachable."
Show times
Friday, August 8

2330 (Asia/South Asia/North America)

Saturday , August 9

1500 (All Regions)

Sunday, August 10

0030 (Europe/Asia/South Asia/North America)

0730 (All Regions)

1300 (Asia/South Asia/North America)

ALL TIMES GMT

However, his personal performances remained high enough to secure places in the NBA All-Star teams and by 2007 his public reputation seemed to have been restored -- that year replicas of his Lakers jersey were the highest selling in the United States and China.

While his critics have called him selfish and at times arrogant, it's hard for any to ignore his talent and sporting achievement.

Bryant has put off surgery to repair torn ligaments in his little finger to play in the Games, joining up with fellow NBA stars, LeBron James, Dwayne Wade and Carmelo Anthony.

After previous Olympics touted as the Dream Team, this year's Team USA have taken a more modest line, talking of themselves as the "Redeem Team," aiming to make up for the disappointment at only winning the bronze medal at the Olympics in Athens four years ago.

"Everyone's going to be a touch match for us, so we've got to be ready to play every time we step out there," said Bryant at Team USA's training camp in Macau last week.

Bryant and Team USA's first Olympic match will be against China -- a country that has become almost as basketball crazy as the States, and one that has their own basketball superstar to pin their hopes on -- the toweringYao Ming.

E-mail to a friend

All About China • NBA Basketball • Kobe Bryant