(CNN) -- Chinese officials have revoked the visa of former U.S. Olympic speed skater Joey Cheek, an action that has worried the White House.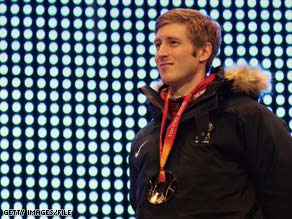 U.S. speed skater Joey Cheek won a gold medal at the 2006 Winter Olympics in Turin, Italy.
Cheek said he was informed of the action by the Chinese Consulate Wednesday night as he prepared to travel to Beijing for the Games.
"They said, you know, you're not going to be able to travel to China; your visa's been revoked," Cheek said. "And when I asked for a reason, they said, we don't need to give you a reason."
Cheek, a 2006 gold medalist, was not going to the Games to compete but to support 70 athletes who are part of a group he co-founded called Team Darfur. The group's mission is to raise awareness about the humanitarian crisis in Darfur, Sudan.
One of the members of Team Darfur is Lopez Lomong, a 23-year-old competitor in the 1,500-meter race, who has been chosen to be the flag bearer for the U.S. Olympic team, leading it into the stadium for the opening ceremony Friday.
Lomong's connection to Sudan is personal, as his family fled the country to escape attack when he was 6. He was separated from his parents and spent 10 years in a refugee camp before the U.S. government resettled him in the town of Tully, in upstate New York, according to the U.S. Olympic Committee.
He was among roughly 3,800 refugees, dubbed the Lost Boys of Sudan by reporters and aid workers, who were resettled in cities across the United States.
Human rights groups have faulted China for doing too little to pressure Sudan, a trading partner, to halt unremitting bloodshed in Darfur. An estimated 300,000 people have been killed and 2.5 million forced from their homes in a campaign of violence in Darfur that the United States has condemned as genocide.
White House spokeswoman Dana Perino said the U.S. ambassador in Beijing has spoken to Chinese officials to "express our concern and complaint" about the revocation of Cheek's visa.
"It's slower than we would like," she said, "and they're actually running out of time to be able to rectify it."
Wang Baodong, spokesman for the Chinese Embassy in Washington, said China's visa system is "above reproach and deserves respect."
"We sincerely hope as the Beijing Olympic games is a sports gala of the whole world, that relevant parties stop politicizing the games and help create favorable conditions for a successful event," Baodong said.
E-mail to a friend

CNN's Abbi Tatton and Elise Labott contributed to this report.
All About Beijing • Summer Olympics • Darfur