(CNN) -- Authorities tightened security in Kabul for Afghanistan's Independence Day celebration Monday amid "credible intelligence" that attacks were planned against civilian, military and government targets, according to the commander of the U.S.-led coalition in Afghanistan.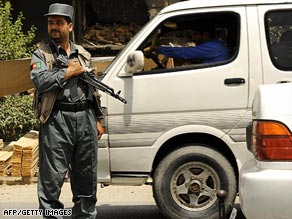 An Afghan policeman stops a vehicle at a checkpoint in Kabul, where security has been tightened.
In eastern Afghanistan, a suicide car bomb near a U.S. base Monday killed 10 Afghan civilians and wounded 13 others, the U.S. military said.
The incident, which took place outside the Forward Operating Base Salerno in Khost province, "did not penetrate" the base perimeter.
Afghan security forces found another car bomb outside the gate and "stopped it with small-arms fire."
NATO's International Security Assistance Force said a British soldier died in southern Afghanistan when insurgents attack a patrol on Monday.
An additional 7,000 Afghan police officers patrolled and manned checkpoints throughout the Afghan capital, looking at every passing vehicle, according to an interior ministry official.
The coalition commander warned the Afghan public in a statement Monday "of a heightened security threat based on credible intelligence reporting.
"These reports indicate that the enemies of the people of Afghanistan intend to attack civilian, military and government targets during Afghan Independence celebrations," the statement said.
Monday marks the 89th anniversary of Afghanistan's independence from Great Britain.
On Sunday, dozens of Taliban militants were killed after they ambushed a convoy carrying supplies for NATO forces in southern Afghanistan, an Afghan official said.
Five security forces who worked for a private company were killed in the attack, in Zabul province, said Gulab Shah Alikhail, the deputy governor.
After the ambush, Afghan army forces were called in, Alikhail said. Alikhail put the militants' death toll at 32.
E-mail to a friend

All About Afghanistan