ISLAMABAD, Pakistan (CNN) -- Four people were killed Saturday in two bombings in an extremist violence-plagued region of northwestern Pakistan, close to the border with Afghanistan, officials said.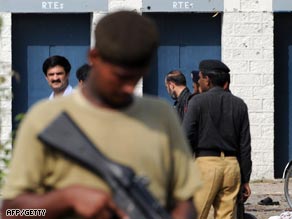 Police and authorities investigate the scene of the arms factory blast in Wah, near Rawalpindi.
The incidents in the Swat Valley follow a week of deadly attacks in Pakistan as the country was embroiled in new political turmoil after the resignation of President Pervez Musharraf under threat of impeachment.
In the first attack, a suicide car bomber hit a police station in the village of Charbagh, killing two officers and wounding 11 people, said Naveed Iqbal, a police inspector in charge in Swat.
Later, a remote-control bomb blew up at a vacant police checkpoint in the village of Abuha, killing two civilians and injuring four people, including three children, Iqbal said.
A Pakistani Taliban group, Tehrik-e-Taliban, claimed responsibility for both blasts.
Spokesman Muslim Khan warned of more attacks unless Pakistan stops an offensive against Islamic militants in parts of Swat and the North West Frontier Province, a rugged area near the Afghanistan border where the central government has long exerted little control.
On Thursday, the Taliban claimed responsibility for dual suicide bombings at a Pakistani military arms factory that police said killed 66 people and wounded more than 70 others.
Two suicide bombers blew themselves up near the gates of the military arms factory in Wah, near Rawalpindi, where Pakistan's military is based. The attack took place during a shift change at one of several factories that employ several thousand people.
The violence comes as the country's election commission announced Friday that the election to replace Musharraf will be held September 6, saying candidates have until Tuesday to indicate that they will run.
E-mail to a friend

CNN's Reza Sayah contributed to this report.
All About Pakistan • Pervez Musharraf • Taliban Movement of Pakistan • Afghanistan