KABUL, Afghanistan (CNN) -- Afghanistan's government on Monday demanded a review of international troops within its borders after an airstrike which Afghanistan believes killed about 90 civilians -- most of them children.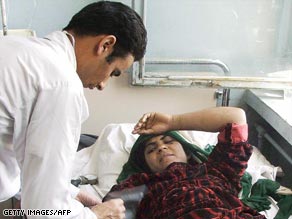 A woman allegedly injured in the airstrike is treated in a Herat area hospital.
The Council of Ministers called on the Ministries of Defense and Foreign Affairs to demand that international forces halt all airstrikes on civilian targets, as well as house searches that are not coordinated with Afghan authorities, and the illegal detention of civilians.
The demands come after a U.S. airstrike Friday which the Afghan government says killed about 90 Afghan civilians and which the U.S.-led coalition says killed insurgents.
In its declaration, the ministers said its concerns have been voiced to foreign military commanders in the past.
"Unfortunately, to date, our demands have not been addressed, rather, more civilians -- including women and children -- are losing their lives as a result of air raids," the council said.
The council also asked to start negotiating a "status of forces" agreement with international forces -- which include U.S. and NATO troops
The declaration was supported by Afghan lawmakers from the lower house of parliament, who met Monday with Afghan President Hamid Karzai and urged the government to regulate the presence and authority of the international forces, according to a government statement.
An Afghan investigation on Sunday concluded the airstrike in Herat province, western Afghanistan, killed civilians.
That same day, Karzai announced that he fired two military commanders in the wake of the deadly strike, including Gen. Jalandar Shah, the Afghan army's corps commander for western Afghanistan.
The U.S.-led coalition stands by its account of the Herat airstrike, Capt. Christian Patterson told CNN on Monday. The coalition has not confirmed any civilian casualties, citing an ongoing investigation.
"The incident is under investigation. We don't have a timetable on when it will be completed," the coalition spokesman said. Patterson could not comment on the Afghan government's call for a status of forces agreement.
In its initial press release, the coalition said it was aware of allegations that the engagement in the Shindand District of Herat province may have resulted in civilian casualties.
"All allegations of civilian casualties are taken very seriously," the release said. "Coalition forces make every effort to prevent the injury or loss of innocent lives."
The U.S.-led coalition reported last week that during a raid with Afghan troops to arrest a Taliban commander 30 people were killed. It said insurgents used small arms and rocket-propelled grenades to fire on the soldiers who fought back with small-arms fire and called in an airstrike, killing 30 insurgents, including Taliban commander Mullah Sadiq.
On Monday, a U.S. military official, who declined to be named citing the ongoing investigation, said the entire incident left 30 dead, including five civilians -- two women and three children who were caught in the crossfire.
He cast doubt on reports that 76 people in one room died in the strike while reciting Koranic verses at 1 a.m. and said there were not even 50 children in the entire village.
He said the airstrike was on a legitimate target, noting that coalition forces found a weapons cache at the site of the airstrike -- including AK-47s, 4,000 rounds of ammunition, and bomb-making materials -- as well as thousands of dollars in U.S. currency.
Karzai blamed U.S.-led coalition forces for failing to coordinate their attack with the Afghan army. But the coalition said the airstrike was called in by Afghan and coalition troops as they embarked on the raid.
Karzai spoke by telephone on Saturday with a tribal elder in the village bombed Friday and "expressed his condolences to the people affected in the airstrike."
"All efforts of the Afghan government to avoid civilian casualties have not yielded any positive results, and our innocent countrymen are still killed in anti-terrorism operations," the president's statement said.
Another 14 Afghan civilians were killed Saturday in Taliban roadside attacks and 17 Taliban militants were killed in clashes with Afghan and NATO-led troops in southern Helmand province, officials said.
E-mail to a friend

CNN's Atia Abawi and Journalist Farhad Peikar contributed to this report
All About Afghanistan War