By Elizabeth Yuan
CNN
BEIJING, China (CNN) -- As in Rome and Athens, ancient relics in Beijing stand in stark contrast to the highways, buildings and vehicles of the modern age. At Beijing's Jianguomen, the fortification-like Ancient Observatory -- dating from 1442 during the Ming Dynasty -- dodges the overpasses of the Second Ring Road while standing within steps of a subway station.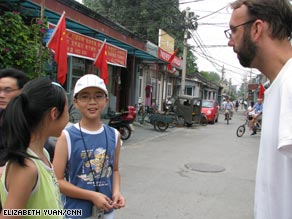 Mike Meyer, right, has lived in Beijing since 1997.
To what extent Old Beijing -- which can be defined as anytime from "ancient" to pre-1990s, depending on the context -- can survive urban development post-Olympics is perhaps best answered by Beijing's urban planners.
Among the endangered are the hutongs, or narrow alleys, and siheyuan, or courtyards, where city residents have long lived.
Zhang Wei started the Web site oldbeijing.org eight years ago to chart the decline in the number of Beijing's hutongs and believes only 500 remain of the estimated 3,000 that existed six decades ago.
"This number is not including hutongs that are half destroyed," he said.
An estimated 520,000 people moved to the Chinese capital last year alone, according to state-run news agency Xinhua. The consequence is that low-lying houses and hutongs face destruction to accommodate the high-rises needed to house so many people, Zhang said.
"It's coming," said Mike Meyer, a three-year resident of Dashilar, a maze of hutongs within a 10-minute walk south of the new egg-like National Grand Theatre near Tiananmen Square. "My landlord told me my lease ends in September, that maybe we should go month to month."
Public notices by the Beijing Municipal Construction Committee are up around the neighborhood, listing which addresses face relocation. Those fated for the bulldozer would get the white character chai (meaning "tear down") painted on its wall.
"No one's ever seen the character painted," said Meyer, who's chronicled the lives of his neighbors in a new book, "The Last Days of Old Beijing." Referring to the invisible "Hand," Meyer said that once the character is painted on a building, "you're a goner."

Watch Meyer show one of Beijing's old hutong areas »
The destruction of neighborhoods was what prompted Sze Tsung Leong to photograph Beijing and other Chinese cities -- including Nanjing, Pingyao, and Xiamen -- between 2002 and 2005. The New York-based artist visited China for the first time in 1994 and again in 2001.
"It was like visiting two different eras, as so much of the city that I first saw in 1994 had been destroyed and replaced with new construction," he wrote in an e-mail to CNN.
In an essay for his resulting book "History Images," Leong referred to the "erasure of history." As he put it, each shift in history -- "from dynasty to dynasty, from imperial rule to communism, from communism to the market economy" -- seeks to define itself with the erasure of the past. The pattern and scale of destruction were similar in all China's major cities, Leong found.

See a gallery of Leong's photographs of Beijing »
A drive along Beijing's Second Ring Road can give a sense of the scale of what has been lost of Beijing's imperial city, the walls of which once protected "one of the largest, most unique, and most intact Imperial Cities in the world," he added in the e-mail.
The Qianmen area, particularly southeast of the Qianmen gate -- home to Dashilar and Meyer's house -- and south of the Beijing Railway Station, was where one can best see the juxtaposition of demolished neighborhoods amid the new buildings that would replace them, Leong noted.
Within a few minutes' walk of Meyer's home is Liulichang, Beijing's 750-meter (half-mile) antiques street which has flourished since the Yuan dynasty 800 years ago.
During the past eight years, the government put in $146.2 million into the renovation of hutongs and siheyuan around there, said Kong Fanzhi, director of Beijing Municipal Administration of Cultural Heritage at a news conference in July.
"Wal-Mart is down the street," Meyer said, pointing. Anchoring it is the Sogo Department Store and hotels.

Watch one commentator discuss post-Olympics China »
Tenants on Beijing's new shopping streets won't be the post office, Meyer said, "but Apple, Prada and Starbucks." The investment is going toward the "renewal" or makeover of buildings and streets, like Liulichang itself, Meyer added.
Nonetheless, such new establishments are popular among local residents, sometimes not even for the products sold, Meyer said. "It's air-conditioned," Meyer said of Wal-Mart, while Starbucks offered anonymity and "alone time" from Dashilar's high density, he added.
Zhang is among those who lost their homes within the Qianmen area. He started oldbeijing.org to remember his house and hutong, Dongbanbijie, which were demolished to accommodate a widened street. As time went on, the collection of similar stories grew. Aside from the 16,400 registered users on his Web site, 1,000 people have contributed pictures over the years, Zhang said.
"The history of development is the history of demolition," said Zhang. "In recent years, development gets faster, and we see hutongs disappearing faster."
Life in the hutongs has its pluses and drawbacks.
Many buildings, constructed hundreds of years ago, are beyond repair, with walls unable to bear pipes or with rudimentary electricity wiring. Meyer's courtyard has no backdoor, presenting a fire hazard, and the public bathroom is a five-minute walk away.
Nonetheless, his home is comfortable and seals out water and Beijing's famous dust storms, Meyer said. "I haven't had anything stolen," he added. "Never seen a cockroach or a rat." He pays 800 RMB ($116) rent per month for his two-room, 200-square meter apartment, double the size of his neighbors' homes in the siheyuan.
Meyer estimates negotiations would start at $1,000 per square meter despite what he considers a worth of $8,000 per square meter (55,000 RMB), given the location.
Meyer says he can "completely stand" in the shoes of government officials who'd view such neighborhoods as "slums" in the city center, so close to the Great Hall of the People and Tiananmen Square. Beijing was merely following the path of other world cities, such as London, Paris and New York, he said.
Reputations and promotions of city officials aren't built on what is protected but on what is built, Meyer said.
There are residents, particularly young people living with grandparents and wanting more space, who welcome the writing of the "Hand" as a way to get into high-rises and start anew, Meyer said. In a role reversal, grandparents may find themselves moving with their grandchildren out of the city center into the suburbs.
As for Meyer, a resident of Beijing since 1997, he says he'll leave it when he gets his notice. Cities rejuvenate while people get old and sentimental, he said. Nonetheless, "I miss Beijing every day," he added.
E-mail to a friend