SRINAGAR, Indian-controlled Kashmir (CNN) -- Indian authorities in Kashmir arrested more than a dozen pro-separatist leaders and placed the divided Himalayan region in an around-the-clock curfew to scuttle a planned pro-independence rally Monday.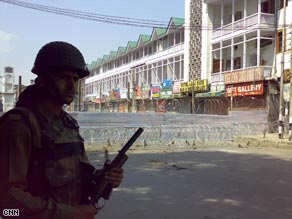 The city centre of Lal Chowk, sealed off by tin sheets and razor fitted wire by Indian paramilitary forces Monday.
Still, stone-pelting mobs took the streets, clashing with police and security forces. Four people were killed, including one woman, and 45 others were wounded, a senior police officer said.
Separatist groups had planned Monday's sit-in at Lal Chowk, or Red Square, to oppose Indian rule in the Muslim-majority region. Over the last two weeks, protesters have held several such demonstrations calling for independence.
Security forces shut down all roads leading into the city and put up corrugated tin sheets and barbed wires to barricade Lal Chowk.
The political leaders were rounded up in pre-dawn raids at their residences. Among them were Syed Ali Shah Geelani and Mirwaiz Umar Farooq, who head the hardline and the moderate factions of the region's separatist parties.
Kashmir is divided between India and Pakistan and claimed by both. The region has been the cause of two wars between the two countries.

Watch the clampdown on pro-separatists »
Authorities say an Islamic insurgency in the region has claimed up to 43,000 lives since 1989, but human rights groups say the toll could be double.
Violence had dropped off since the two countries launched a peace process in 2004, but surged again after the state government announced a plan in June to donate land to a Hindu shrine, generating massive protests by Muslims.
Hindus took to the streets demanding it be restored and 30 people died in subsequent clashes between police and protesters.
E-mail to a friend

Journalist Mukhtar Ahmed contributed to this report