SRINAGAR, Indian-controlled Kashmir (CNN) -- A strict Indian-imposed curfew continued for the third day in Kashmir on Tuesday, with the death toll for the past 24 hours reaching five after clashes between Indian security forces and pro-separatist protesters defying the curfew.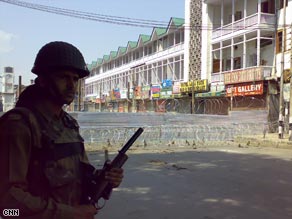 The city centre of Lal Chowk, sealed off by tin sheets and razor fitted wire by Indian paramilitary forces Monday.
On Tuesday, the streets were quieter than they were Monday, when a planned sit-in by people opposed to Indian control in the region led to four deaths and more than 100 injuries. A fifth protester died Tuesday from bullet wounds.
Kashmir is divided between India and Pakistan and claimed by both. The region has been the cause of two wars between the two countries.
Authorities say an Islamic insurgency in the region has claimed up to 43,000 lives since 1989, but human rights groups say the number could be twice that.
Violence had dropped off since India and Pakistan began a peace process in 2004, but surged again after the state government announced plans in June to donate land in heavily-Muslim Kashmir for a Hindu shrine.
Reinforced Indian police and paramilitary groups patrolled the streets Tuesday in armored cars and many streets in Srinagar, the capital of Indian-administered Kashmir, were barricaded.
"We have strict orders from our higher-ups to give no quarter to curfew violators and deal with any violations firmly," and Indian paramilitary officer said.
Over a dozen separatist leaders have been arrested by the police and paramilitary, while others have gone underground to escape arrest.
Newspapers in Kashmir did not hit the stands for the second day in a row Tuesday and local television stations were off the air under a ban imposed on them by the Indian government.

Watch the clampdown on pro-separatists »
Dozens of marriages have been canceled because of the curfew during what is peak wedding season here.
E-mail to a friend

Journalist Mukhtar Ahmed contributed to this report.
All About Jammu and Kashmir • India • Pakistan