BIHAR, India (CNN) -- Everywhere one looked, desperation stared back.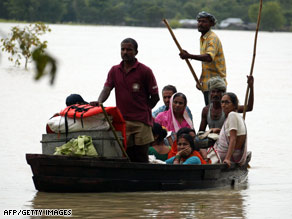 Indian villagers use a boat to travel through floodwaters in the Araria district northeast of Patna on Wednesday.
On the faces of the men huddled on rooftops, waving wildly to draw the attention of passing helicopters. In the sight of the women struggling through chest-high waters, pleading for a spot on crowded rescue boats. In the frightened eyes of children as bloated carcasses of cows, goats and dogs floated by.
The hopelessness stretched for miles Thursday in this destitute northeast Indian state, caught in the midst of the worst flooding in decades.
And with heavy rainfall forecast for the next two days, officials worry that the situation will get worse. Much worse.
By Thursday, 47 deaths had been reported, the government said.
Another 2.6 million people in 1,600 villages have been affected, thousands of them marooned on thin strips of dry land peeking out from cloudy brown waters of the swollen Kosi River.
Indians call it the "River of Sorrow." Every summer, from June to September, the relentless monsoon rains cause the Kosi to overflow, bringing untold misery.
But something more is to blame for this week's calamity.
About a week ago, the river, which eventually empties in the Hindu-revered Ganges, burst its embankment upstream in Nepal.
Water gushed through the breach so forcefully that the river changed course altogether. It plowed a new channel about 75 miles (120 kilometers) east of its river bed.
It swallowed entire villages -- areas unaccustomed to water that deep.
The result: the worst flooding in 80 years in this landlocked, rural state.
"Flood is understatement," Bihar Chief Minister Nitish Kumar told reporters. "It's a disaster."
Government agencies, nongovernmental organizations and good Samaritans have begun doing what they can: using motorboats to rescue stranded residents, for example, or dropping thousands of food packets from the sky.
The scale of the disaster is overwhelming. About half the state is under water -- a submerged area the size of the entire U.S. state of Delaware.
The waters have damaged roads and railroads, making it difficult to reach the hardest hit. Phone lines are down, the power is out.
Kumar pleaded with residents to seek higher ground.
Those who could afford it, did.
One man told CNN-IBN that he scrounged together 2,000 rupees ($45) to pay a boatman to ferry his family across.
"We agreed on 2,000 (rupees) and he upped it to 2,700 ($61) just like that," he said. "What can I do? I paid him."
But many others stayed put. Nine-hundred-million Indians survive on less than 85 rupees ($2) a day, a British government study found this year.
Many of them live in Bihar, the poorest state in India. They have nowhere to go.
"It's raining here. People are on rooftops begging to be rescued," said CNN's Bharati Naik while touring some of the affected area Thursday. "(There are) not enough boats. Villagers are crying and extremely frustrated."
Officials worry that in coming days, stranded residents may take to drinking the contaminated river water, raising fears of an epidemic.
"There is no water to drink," one man told CNN-IBN, CNN's sister network in India. "We are hungry. We're thirsty. We have to drink something."
A local construction company recruited villagers to supply packets of food to flood-hit neighbors. One such villager told CNN he has supplies lasting 15 days.
"Then it's all up to God as water levels are rising," he said.
Roshan Kumar, a teacher from one of the flooded villages, arrived at an army base to seek help for his neighbors.
About 30,000 people are stranded, he told CNN. The army said it's doing all it can.
Meanwhile, the water level in many areas continues to rise even as hope, among many, is beginning to falter.
Kawshalya Devi spent the last two days waiting by the side of a highway. She and her eldest son escaped the flood waters. But in the commotion, she lost track of her husband and younger son, she told CNN-IBN.
"This is all I have. Just this," Devi wailed, pointing to the dry spot where she sat. "Everything else is gone. I have had everything robbed from me."
E-mail to a friend

All About India