ISLAMABAD, Pakistan (CNN) -- A bomb targeting a police van killed at least seven people in Pakistan's violence-plagued northwest Thursday, police told CNN.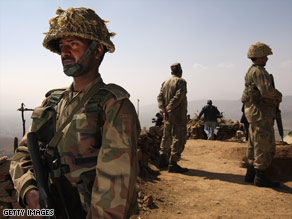 Pakistani Army soldiers stand guard in northwestern Pakistan on the alert for insurgents on February 25.
Among the casualties were six police officers, said Waqas Khan, police superintendent in the town of Bannu, where the attack occurred.
The exact death toll was not immediately clear, with the state-run Associated Press of Pakistan putting it at nine.
Another 12 people were wounded in the attack in the North West Frontier Province town, Khan and the state news agency said.
It is the same province where a U.S. consulate vehicle was fired upon on Tuesday. No one was hurt in that incident.

Watch more about the deadly blast »
The police van was on its way to pick up prisoners when it was struck by the bomb as it crossed a bridge, Khan said.
Authorities do not know whether the bomb was remotely detonated or the explosion was a suicide attack. Police found a severely damaged car at the site of the explosion, the news agency said.
Officials fear the death toll may rise because among the wounded were several with life-threatening injuries, Khan said.
Don't Miss
The North West Frontier Province, near the border with Afghanistan, is rife with Islamic extremists and has been the site of recent clashes between Pakistani security forces and militants.

Watch a report on the attack on the U.S. consulate vehicle »
In late June, the military launched an offensive in the province -- the biggest push against extremists in the tribal region since the civilian government took power in March. Islamic militants vowed to retaliate.
Since then, militants have launched several deadly attacks.
After taking office in March, Pakistan's new government had tried to negotiate a deal with militants as part of its efforts to bypass military might and achieve peace through talks.
Yet the attacks continued.
On Monday, Pakistan banned the Taliban, which has claimed responsibility for several of the bombings.
E-mail to a friend

All About Taliban Movement of Pakistan • Pakistan