WASHINGTON (CNN) -- The chairman of the U.S. Joint Chiefs of Staff came away from a secret meeting with Pakistani military commanders this week "encouraged" by Pakistan's efforts against growing threats from the Taliban and al Qaeda.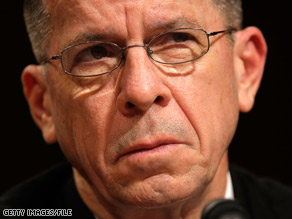 Adm. Michael Mullen, chairman of the U.S. Joint Chiefs of Staff, met with the Pakistani Army chief of staff.
Adm. Michael Mullen said Thursday he and other U.S. military officials met aboard the USS Abraham Lincoln with Pakistani Army chief of staff Gen. Ashfaq Parvez Kayani and other Pakistani commanders.
"For me, more than anything, this was a chance to better understand a very complex challenge in a critical part of the world and to try to do that through the eyes of the leadership who live and work and fight there every single day," Mullen told reporters.
The chairman said he came away from the meeting -- his fifth with Kayani since February -- "very encouraged that the focus is where it needs to be and that the military-to-military relationship we're building with Pakistan is getting stronger every day."
Mullen offered no details of the meeting, citing its "sensitivity" but said the military relationship between the two countries is critical.
"There is, as you know, a growing complexity and coordination among extremist groups there, an almost syndicate-like behavior, that has resulted in new and ever more sophisticated attacks on coalition forces," he said.
Insurgent activity in Pakistan and Afghanistan border regions poses "an extraordinarily complex problem," Mullen said.
Don't Miss
"We need to continue to press on it," he said. "There are areas that we can do better. There are areas that the Pakistan military can do better. We understand that. It's an area, I think, we can all improve on. But it is not going to be something that gets solved overnight."
The U.S. military, led by Mullen, has been pressing Kayani for months to crack down on militants in the border region in part because of the growing number crossing the border into Afghanistan to stage attacks against American troops. So far, there has been no reportable lessening of the flow of militants, according to several U.S. commanders.
"There is no diminishing of their ability to operate," in the border region, a senior U.S. military official said.
And in recent weeks, the Taliban tactics have shifted.
For months, U.S. commanders had been saying the insurgents in Afghanistan were reduced to using terrorist hit-and-run and suicide-style tactics because they had no other capabilities. But now, the official said, that is changing.
"They are coordinating complex, infantry-like attacks against fixed targets," the official noted. "We are seeing a different type of militancy."
The official noted the August 19 attack in which an estimated 100 insurgents ambushed a NATO patrol near Kabul, killing 10 French soldiers, as well as recent attacks on U.S. bases and positions, as examples of the use of infantry-style military tactics. These attacks feature the simultaneous use of mortars, rockets and small arms on fixed targets.
Those new tactics suggest a growing ability by the Taliban to organize, train, fund and coordinate attacks.
Mullen cited those attacks as well.
"The safe havens in the border regions provide launching pads for these sorts of attacks, and they need to be shut down," he said.
Several U.S. commanders and senior officers have told CNN they believe the Taliban's intelligence capability also has improved in some areas, simply by their ability to watch when and where U.S. and coalition forces move around Afghanistan.
Tuesday's meeting also included Army Gen. David Petraeus, who will take over as the senior U.S. officer in the Middle East next month; Army Gen. David McKiernan, the top NATO commander in Afghanistan; Adm. Eric Olson, head of the U.S. Special Operations command; and Army Lt. Gen. Martin Dempsey, the acting commander of U.S. forces in the region.
The official also said that the tone of the meeting was more cordial than one last month, when Mullen took a "more firm" tone with Kayani.
Asked if Mullen has achieved any results from his meetings to pressure Pakistan, the official said the admiral "is comfortable General Kayani understands the threat, and he and his forces are working to deal with that."
Asked directly whether there was any progress from the recent meetings, the official said, "Yes, but I will not discuss that." He declined to say whether there were any new agreements for U.S. troops to operate inside Pakistani airspace or on the ground to attack militant positions.
U.S. commanders have been pressing for more leeway on that for months. However, the issue of U.S. military action on Pakistani soil is extremely sensitive for the Pakistani government due to concerns over national sovereignty.
E-mail to a friend

CNN's Barbara Starr contributed to this report
All About Pakistan • The Taliban