ISLAMABAD, Pakistan (CNN) -- Pakistan's Prime Minister Yousaf Raza Gilani escaped an assassination attempt Wednesday when his motorcade was fired upon, his secretary told CNN.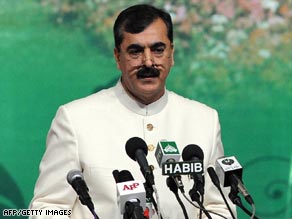 Pakistan's Prime Minister Yousaf Raza Gillani has survived an assassination attempt.
Two bullets were fired from a hilltop and struck Gilani's bulletproof car in Rawalpindi, said the prime minister's Secretary Zahid Bashir.
It was the same spot where Pakistan Muslim League-N head Nawaz Sharif survived an attempt on his life last December, Bashir said.
Pakistan's Information Minister Sherry Rehman told CNN that the prime minister was fine.
Rawalpindi, about 18 miles (30 kilometers) from the capital city of Islamabad, is a closely guarded city that is home to the country's military headquarters.
The prime minister had returned to Islamabad from the city of Lahore, the station reported. He was on his way to his residence from the airport when the shooting occurred.
Pakistan's state television station, PTV, showed images of the car's tinted driver's side window with two bullet holes creating a cobweb-like shatter.
The shooting came two days before Pakistani lawmakers are set to elect a new president.
E-mail to a friend