ISLAMABAD, Pakistan (CNN) -- Asif Ali Zardari, the widower of assassinated Pakistani leader Benazir Bhutto, took an oath of office as the nuclear-armed Islamic country's new president Tuesday.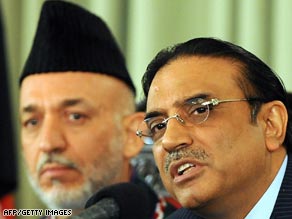 Afghanistan's Hamid Karzai, left, and Pakistan's Asif Ali Zardari have pledged to work together.
Zardari faces immediate pressure to tackle skyrocketing inflation and a deadly insurgency by Islamic militants that has seen his country play a key role in the U.S.-led "war on terror."
Wearing a pinstriped business suit, Zardari took his oath in English. When the ceremony ended, many in attendance broke out in cheers of "God is great" and "Bhutto is alive."
The 53-year-old was chosen as Pakistan's new figurehead after the resignation of Pervez Musharraf, who was forced to quit after months of political turmoil and protests against the former military coup leader's rule.

Watch Pakistan swear in new president »
Zardari is arguably no less controversial, with little governing experience and having spent 11-and-a-half years in jail on what he called, "politically motivated" corruption charges. He was never convicted.
In a joint press conference with his Afghan counterpart Hamid Karzai -- whose government has accused Pakistan of tackling Taliban militants -- both leaders pledged to stand side-by-side in fighting terrorism.
"We are bigger than the problems are," Zardari told reporters.
"If there are any weaknesses, we shall stand together that those weaknesses are strengthened," he said.
Zardari's inauguration for a five-year term completes Pakistan's return to full civilian rule nearly nine years after army chief Musharraf seized power in a bloodless coup.
Zardari has promised to curb presidential powers that were increased under Musharraf, including the ability to dissolve parliament and fire the prime minister.
Zardari's election was not by public vote, but rather by lawmakers in the two houses of the National Assembly and in the four provincial assemblies around the country.
Zardari was widely expected to win because his Pakistan People's Party and its allies have an overall majority in the assemblies.
His inauguration completes a power sweep for his Pakistan People's Party.
He became party head after his wife and a former prime minister, Benazir Bhutto, was assassinated during a campaign rally in December.
Meanwhile, Musharraf's popularity had plummeted in the country due to the Islamic insurgency, a shortage of essential food items, power cuts, and a skyrocketing inflation.
During parliamentary elections in February, voters overwhelmingly expressed their dissatisfaction with Musharraf by handing victory to the PPP and others opposed to the president.
When Bhutto was prime minister, Zardari was accused so many times of corruption, stealing from government coffers and accepting kickbacks that Pakistanis derisively labeled him "Mr. 10 percent."
Zardari said the cases were politically motivated. He spent 11 and a half years in jail on the charges but was never convicted.
Bhutto herself faced corruption charges in at least five cases, but was not convicted. Before her return to Pakistan to take part in the elections last year, she had been in an eight-year self-imposed exile after being convicted on money laundering charges.
E-mail to a friend

CNN's Senior International Correspondent Nic Robertson contributed to this report.
All About Pakistan • Pervez Musharraf • Nawaz Sharif • Asif Ali Zardari • Elections and Voting • The Taliban
All About Pakistan • Hamid Karzai • Benazir Bhutto